featured
2022 Women's College World Series Predictions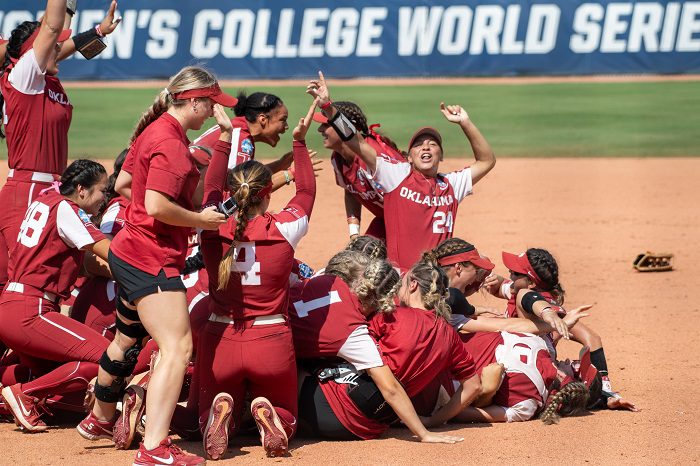 With the 2022 Women's College World Series set to begin in less than 48 hours, here are a few predictions for how things will play out in Oklahoma City.
Big 12 Sweep on Day 1
That's right. I'm calling for the Sooners to take down Northwestern, Oklahoma State to handle Arizona and, yes, the Texas Longhorns to send No. 5 UCLA to the loser's bracket. I have believed this conference to be among the very best in softball all season long and Thursday will be their chance to prove it. With the way that Hailey Dolcini has pitched and Janae Jefferson's play has elevated the rest of UT's offense, I would not want to face Texas right now. Plus Oklahoma and Oklahoma State have a combined 10-0 record in the tournament thus far, so good luck with taking them on right now.
Semifinal Matchups
Oklahoma vs. Florida
I think the Sooners and Gators will meet up at some point, but it won't be until Monday night with a spot in the Finals on the line. Whether or not Jordy Bahl will be in the circle could mean the difference in Oklahoma making it past this point, but the Sooners offense has been so dominant to this point that it's hard to imagine them not being one of the two teams in the finals. Florida is dangerous though, as they looked scary good against Virginia Tech and have been strong throughout the postseason.
Oklahoma State vs. Texas
The Cowgirls will have to face a Big 12 foe to get to the Championship Series, and it will be a team they have beaten four times already this season. The Texas Longhorns have looked like a completely different team in this tournament though and have had the tougher road thus far. Still, I think Kelly Maxwell is pitching better than anyone in the country right now and that will get Oklahoma State to the semifinals on its own. Janae Jefferson and Hailey Dolcini are playing better than they have all season, making this high stakes matchup must-watch TV.
Bedlam Championship
I'm calling for a Bedlam matchup in the national championship, and just writing that has me thinking of all the storylines that could come of it. The last two times that these two have played each other, it was extremely close and entertaining the whole way through. Expect more of the same here, as the in-state rivals battle for a trophy for the third straight time this season, except this is for the big one. Can you imagine what the atmosphere will be live if this series happens, and then went to three games? One word: electric.
Sooners Go Back-to-Back
While the other top teams in the country have fallen by the wayside, Oklahoma has stood tall, even without one of the best players. Nonetheless, Patty Gasso's squad is deep, talented, and motivated and they have made quick work of opponents since they dropped the final game of the Big 12 tournament. There's no doubt that the Sooners haven't forgotten about that game, or who the loss was to, and that will certainly have them ready to go when they get a chance at redemption. Gasso and the Sooners with their sixth title and OU gets the last laugh in Bedlam.