Iowa State Cyclones
Iowa State AD Jamie Pollard Rips NCAA: 'It is Clearly Time for Radical Change'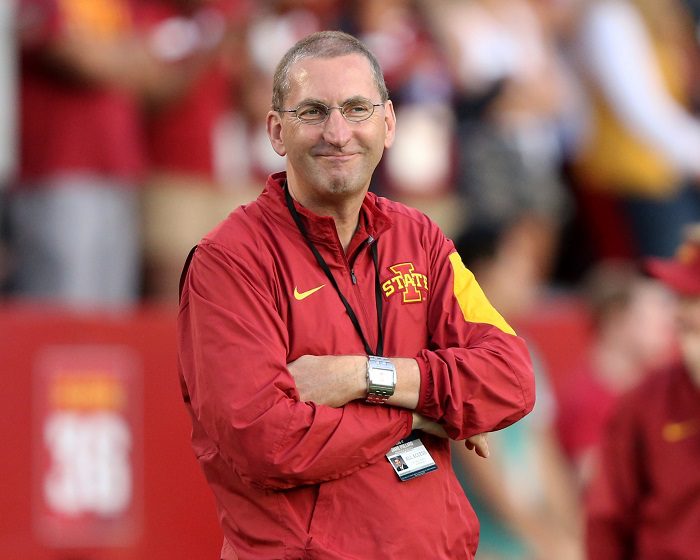 Last week, the NCAA West Regional Qualifying Track Meet took place in Fayetteville, Arkansas, with the some of the top track and field athletes from across the country competing for a spot in Nationals next week in Eugene, Oregon.
During the Men's 10K race, three runners were knocked down just after the 25 minute mark of the race, costing them precious time in the event and ultimately their chance at qualifying for next week's meet.
The three athletes' coaches, from Air Force, Arkansas, and Iowa State all appealed the result and asked the NCAA to reconsider after the incident, but they declined the appeal, effectively ending the career of all three senior runners.
One of those runners, Thomas Pollard, is the son of Iowa State athletic director Jamie Pollard who feels very strongly about how the NCAA dealt with this situation, pointing out incongruent rulings within the same meet about which athletes get a chance to requalify.
Pollard took to Twitter to Memorial Day to express his frustration with how the three athletes were treated by the governing body of collegiate athletics.
"If there was ever any doubt the NCAA is tone deaf to the needs of student athletes take a moment to
watch these two short videos from the NCAA West Regional qualifying track meet last week," Pollard writes. "The NCAA approved an appeal in the women's 800 to give a runner another chance at qualifying to the finals (which she fortunately did but did follow the same procedures in the men's 10K. In the 800 a runner brakes stride and in the 10K three runners are knocked down, trampled and knocked out of the race."
Here are the two videos Pollard mentions.
"The NCAA's rationale for denying the appeal in the 10K is they are not advancing any more than 12
runners to the national championship to protect the 'integrity' of the meet," Pollard continues. "The track coaches at the three schools involved (Arkansas, Air Force, lowa State) all appealed this decision. The head referee agreed with the coaches but told the coaches the NCAA said I can't advance them. On appeal, the NCAA told us 'this is no different than a WR slipping in the end zone and not being able to catch the winning pass'. These runners did not slip – they were knocked down, no fault of their own. The NCAA had the opportunity to do right by these three student athletes, but like countless times before, allowed the bureaucracy of the NCAA to prevail.
"The two NCAA committee representatives assigned to this meet in Arkansas admitted they did not even watch the 10K race. Furthermore, the NCAA staff member assigned to track and field did not even attend the meet. It is an absolute insult to the student athletes and coaches involved that the NCAA is inconsistent in how it applies it rules. Unfortunately these three student athletes will never get this chance again. Just really sad that the NCAA refuses to do right by student athletes. It is clearly time for radical change. Ironically the NCAA will have no one to blame but themselves if the NCAA is ultimately eliminated."