featured
Top Three Storylines to Watch in the 2022 Women's College World Series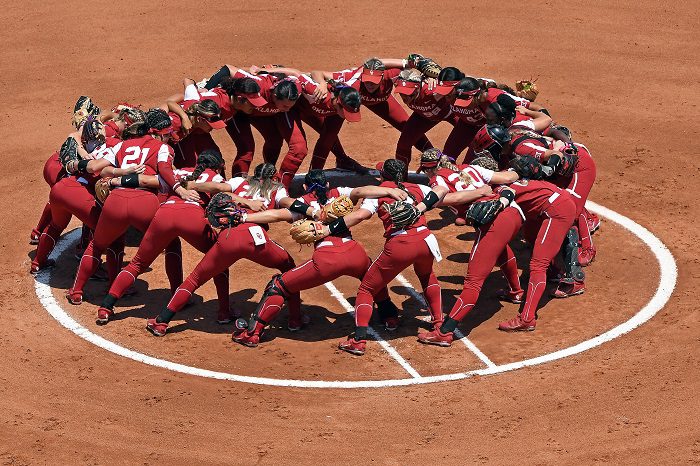 It's one of the best times of the year for softball fans as the Women's College World Series is ready to get underway on Thursday.
Three teams from the Big 12 Conference have made the field of eight, giving the conference a great shot at hoisting the Championship trophy next week.
There are several interesting storylines to keep up with in this field, and here are a few noteworthy things to keep in mind.
Underdogs Crash WCWS Party
Like other sports, softball is typically pretty straightforward on who will make the Women's College World Series based off of the national seeds. Sure, there are upsets and an unseeded team will sneak into Oklahoma City, but not nearly half of the field.
In 2022, things are a bit different. Over the last two weeks, we have seen the 2, 3, 4, 6, 10, 11, 13, and 16 seeds get upset and knocked out of the national tournament. Now, just the 1, 5, 7, 9, and 14 seeds remain, joined by three unseeded teams.
Oregon State upset No. 11 Tennessee and then took down Stanford to get here, while Arizona handled No. 15 Missouri and then Mississippi State to book their flight to OKC. Texas, perhaps this year's "underdog" went through No. 13 Washington and No. 4 Arkansas to make the field, surprising everyone, including the NCAA.
Can Kelly Maxwell Pitch the Pokes to the Finals?
Oklahoma State hasn't lost since the regular season finale against Oklahoma, and a huge reason why has been the play of Big-12 Co-Pitcher of the Year Kelly Maxwell. Her play in the postseason tournament has been nothing short of impressive.
In 20.2 IP over four games, Maxwell has allowed six hits, zero runs, and has walked just two batters compared to an incredible 41 strikeouts.
Those numbers are good enough to start looking at Oklahoma State as a team that could win this whole thing. With Maxwell, and Morgan Day backing her up, the Cowgirls have looked hellbent on proving that they are every bit as good as their in-state rivals, and they may just get a shot to prove that if they keep playing the way that they are.
When/If Will Jordy Bahl Make Her Postseason Debut?
Let me preface by saying that Oklahoma is playing like the best team in the field right now without Jordy Bahl, but adding her to the rotation could make this team an absolute problem in Oklahoma City Next weekend.
It was reported that Oklahoma's ace was throwing some in the bullpen last week and sounded optimistic about her returning, but updates on her status have been quiet since then.
If the Sooners only have Hope Trautwein and Nicole May at their disposal for the WCWS, it could make things a bit more interesting, but it would still be hard to bet against the team that has outscored its opponents in the tournament 52-3.