Kansas Jayhawks
Committing to Kansas Doesn't Make Kevin McCullar, Chris Beard Synonymous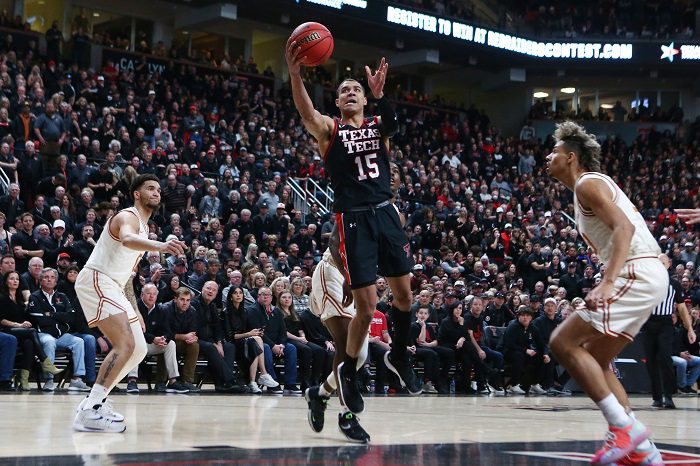 It's official, if Kevin McCullar is transferring to Kansas. This one on it's face does seem like a bit of a shocker, and Texas Tech fans have been pretty quick to show their disappointment, to put it mildly.
After what happened with Chris Beard last offseason, it's certainly reasonable for a fanbase to be concerned whenever a star player leaves for an in conference foe, especially one that you battled it out with for the Big 12 regular season and tournament title.
But the McCullar situation is far from the Chris Beard one, Kansas isn't Texas, and Lawrence isn't Austin.
First off when Kansas visits Lubbock this season, it's going to be an intense and hostile atmosphere towards McCullar, as it should that's part of college sports, but it should stay at the stadium. McCullar spent 4 years in Lubbock, he was an early enrollee during the teams 2019 National Final run, and the only player left with a connection to the program then. He's always been a steady player for the Red Raiders, and was the first to announce he was coming back to Texas Tech when Chris Beard left, doing so the night Mark Adams was announced as head coach. This past season he made a crucial defensive play against OU in the Big 12 semis to seal a 1 point win, and first title game appearance since 2005, and had the exclamation point dunk vs Notre Dame to go back to the Sweet 16. After 4 years in Lubbock, having a dad that played for Texas Tech football, and was coaching in Lubbock, it may seem shocking that he'd leave, but there's underlying reasons, and what he's done for Texas Tech should not be forgotten.
Kevin McCullar was considered a fringe NBA prospect, as some mock drafts have him going undrafted others as a late second round pick. It's probably a better position than many people expected him to be in when he announced he was undergoing the draft process. There's currently no doubt that he's one good season, and a little offensive development away from being a sure fire NBA draft pick, and that's where we are. Even as a huge Texas Tech fan, facts are facts, in 3 years of playing in Lubbock we haven't seen his offense take a huge jump. To Mark Adams credit he gave him the opportunity to run point guard this season, and quite frankly McCullar just didn't take advantage. But Texas Tech typically isn't where you go to develop your offensive game, now transfers Tariq Owens, Matt Mooney, and Mac McClung were able to see NBA playing time in big part because they spent a year at Texas Tech. Bryson Williams looks like he's well on his way to doing the same, but that's not what McCullar needs, he needs a good offensive program, and has run his course at Texas Tech.
One tired narrative is that this is all because of NIL, it isn't. There are some schools that will struggle to keep players with the new NIL rules in the Big 12, but Texas Tech isn't one of them. 5 star Elijah Fisher recently committed to Texas Tech, and you can be assured that NIL at least played some role in that decision. It's certainly possible that Kansas basketball supporters spend much more on NIL than schools like Texas Tech. But there's no chance that a 3 year starter, NIL value is more in Lawrence where they aren't familiar with him than in Lubbock where they are. If there's a 5 star out there, yes Kansas may have more NIL resources to get his signature than Texas Tech, but they don't have enough of an advantage to steal them off of that alone.
While losing Kevin McCullar is a blow to Texas Tech it's a professional decision, and it makes sense. While it seems like there ended up being some disconnect between McCullar and Adams, especially over whether he'd play point guard or wing, his NBA draft feedback is likely the biggest reason. He needed to find a program that allows him to still play at the top level of college basketball, and develop his offensive game at the same time, and Kansas is that spot. As for Texas Tech, they've brought in a high-level recruiting and transfer class, and should be a contender at the top of the Big 12 once again next season.