featured
WCWS: Oklahoma's Road to the Championship Series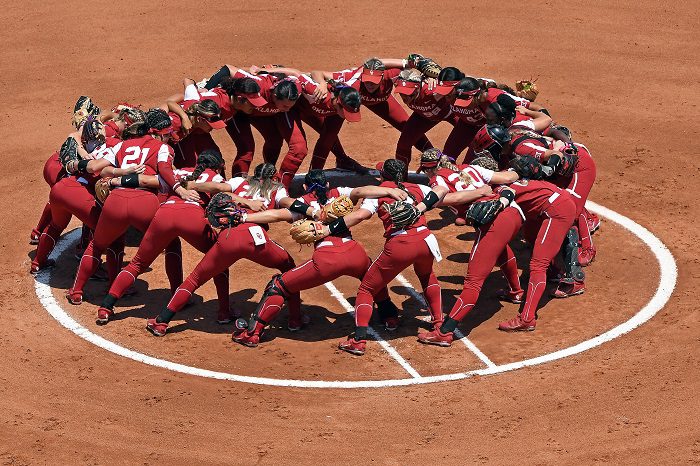 The Oklahoma Sooners appear to be a team of destiny, heading towards their fourth title in six years and sixth title in program history, but before they get there they will have to face the nation's top teams in the Women's College World Series over the next 10 days.
Oklahoma has been dominant in the tournament thus far, outscoring its opponents 52-3 and going 5-0 over the last two weeks.
The Sooners have had to go without their top arm in the circle too, as Jordy Bahl has missed the last three weeks with "arm soreness." However, Patty Gasso announced that Bahl will make her postseason debut this week, adding even more firepower to an already overpowered squad.
Here is the road ahead for Oklahoma and what they will need to do to secure the program's sixth national title.
Sooners Land the Tougher Side of the Bracket
Oklahoma's side of the WCWS bracket turned out to be the harder of the two thanks to several upsets in regional and super regional play. The Sooners will first face a tough Northwestern team that landed the nation's No. 9 seed and upset No. 8 Arizona State last weekend in the Tempe Super Regional.
After winning, or losing, against the Wildcats, OU will face the winner, or the loser, of UCLA-Texas. It has defeated both teams this season already, although Texas did win the last time these two teams shared a field. UCLA feels like the biggest threat to Oklahoma in this bracket right now, but that could change with a loss.
If the Sooners stumble in their second game, it would mean flipping brackets and joining the side that holds Oklahoma State, Florida, Arizona, and Oregon State. If the Sooners have to face Oklahoma State before the Finals, it would rob softball fans of an all-time championship matchup, so let's just hope that both teams can stay on the winning side of things until then.
What Will it Take to Get Oklahoma to the Finals?\
To be quite honest, Oklahoma just needs to keep doing what it has done all season. Look, it's no secret that the Sooners are the most talented team in the field. They've won 96% of their games this season and 38 of those by run rule. As long as Oklahoma remains focused and plays the way it has to this point in the postseason, it should find itself in the Finals.
The trio of Jordy Bahl, Hope Trautwein, and Nicole May make up three of the nations top five individual ERA's, and combines for the top team ERA (0.80) nationally. Add to that a destructive offense that has bats like Jocelyn Alo, Tiare Jennings, Jayda Coleman, Grace Lyons, and Lynnsie Elam and you have a team that could beat the majority of Olympic softball teams.