Big 12 News
Patty Gasso Says Jordy Bahl Pitching Today is 'Biggest Victory of the Season'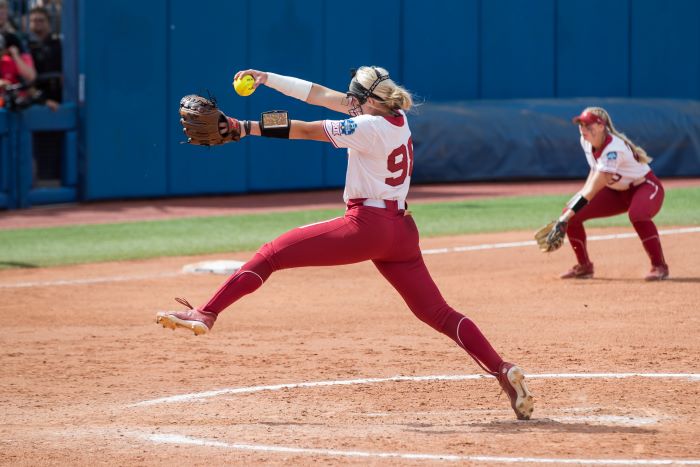 Oklahoma took it to Northwestern in their opening game of the 2022 Women's College World Series, winning 13-2 in five innings and leaving little doubt about who the favorite is in Oklahoma City this week.
Adding to the gap is the re-addition of freshman phenom Jordy Bahl to the Sooners' pitching staff.
Bahl appeared for the final out of the fifth inning, allowing two hits and a run, but rallying and getting the last out of the game by way of a ground ball.
Head coach Patty Gasso addressed Jordy's return to the mound today, talking about the impact that Bahl's presence has on her teammates and the crowd surrounding them.
"Jordy, I'll say it until — she's made differently," Gasso said. "People see that. You see that. That's why you like this. You like the way she moves around the mound, the way she does. You like when she hangs her arm out that way. You like her enthusiasm. You like the way she rips her mask off when she gets what she wants. She's very athletic, and she is extremely focused. To see her doing what she's doing today is the biggest victory that we've had thus far this season."
Gasso was asked if she was nervous about turning the 2022 NFCA Freshman of the Year loose for the first time in a postseason environment, on the biggest stage in softball.
"Not nervous," Gasso answered. "I was — and she wasn't. Well, she probably was, but I felt like I really wanted her to feel this atmosphere. Especially going into Saturday because her stuff is moving, and it's working. I wasn't nervous. I knew with two outs we wanted to do it. And I hope no one takes offense to that. I'm not trying to show off anything or anything like that. It's really thinking ahead and strategizing as to a young lady who has been dying to get on this mound and struggling through it. To give her that opportunity was gold, and our team responded to it. I wasn't trying to make a big deal out of it. It was purely to say get a feel for what this feels like so you'll be ready if and when we go again."
It has yet to be determined whether Bahl will appear against Texas on Saturday, but one thing is certain: she will be ready if her name is called.