featured
Three Thoughts on Oklahoma State's 4-2 Win Over Arizona in the WCWS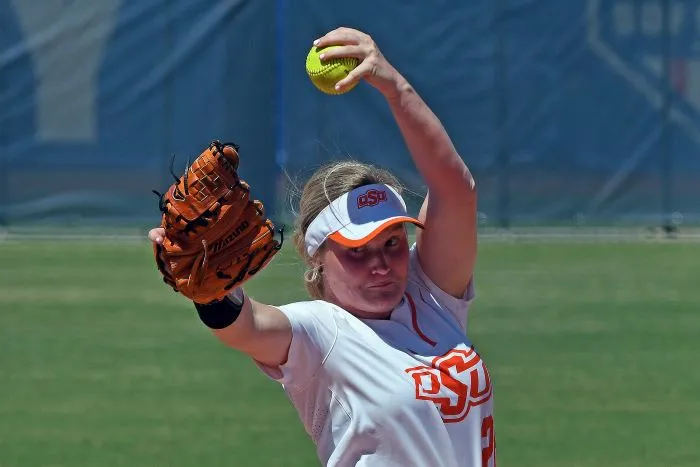 Oklahoma State outlasted a pesky Arizona Wildcats team, winning 4-2 in the opening round of the Women's College World Series.
The win sends Oklahoma State to the winner's bracket to face Florida on Saturday night, while Arizona will face Oregon State in an elimination game tomorrow evening.
Here are three thoughts on the Cowgirls' opening-round loss on Thursday night.
Kelly Maxwell Throws Another Gem
What else can you say about the junior from Friendsville, Texas? Kelly Maxwell continues to show that she is the best pitcher left in this tournament, and perhaps the top pitcher in the country down the stretch. Her 14 K's on the night give her 55 in the tournament alone, pointing to her elite ability to mix speed and movement.
Maxwell gave up five hits on the evening, including a two-run shot to Sharlize Palacios in the fifth, which gave Arizona the 2-1 lead late. Despite that, Maxwell kept her team in the game and gave them a chance to win it, which they did.
In all, Maxwell went a full seven innings, striking out 14 batters and allowing just one hit that really mattered.
Karli Petty Comes Up Clutch
If it weren't for Maxwell, the Oklahoma State offense might not have had a chance to win this game. However, their ace kept them in it until the bats could get going late, and they did. What makes this Oklahoma State team dangerous is that they are never out of the fight, and they will make teams pay for their mistakes.
Karli Petty did just that in the sixth after Miranda Elish drew a walk and Sydney Pennington smacked a double down the right-field line. Petty lined up a 2-2 pitch on the next at-bat and sent Pokes Nation into a frenzy with a three-shot bomb over the centerfield wall. The hit gave Oklahoma State a quick jolt of offensive energy, and enough to get it into the winner's bracket on Saturday.
The Cowgirls were 6-22 (.278) on the night, but they got the ones that mattered, and that's what showed up on the scoreboard.
OSU Completes Big 12 Sweep on Day 1
The Cowgirls joined Oklahoma and Texas in the win column on Thursday evening, giving the Big 12 the distinction of having three of the four teams in the winner's bracket of the WCWS. Today, the conference has proven itself to be at the top of college softball and will look to build on that later this weekend.
The Longhorns, Sooners, and Cowgirls were the top three teams in the Big 12 all season long and it appears that they just might be the top three teams in the country as the season end draws near. I guess we will just have to wait and see if that becomes a fact in the coming days, but I certainly feel good about it after today.