Big 12 News
Big 12 On Track to Replace Bob Bowlsby By Mid-July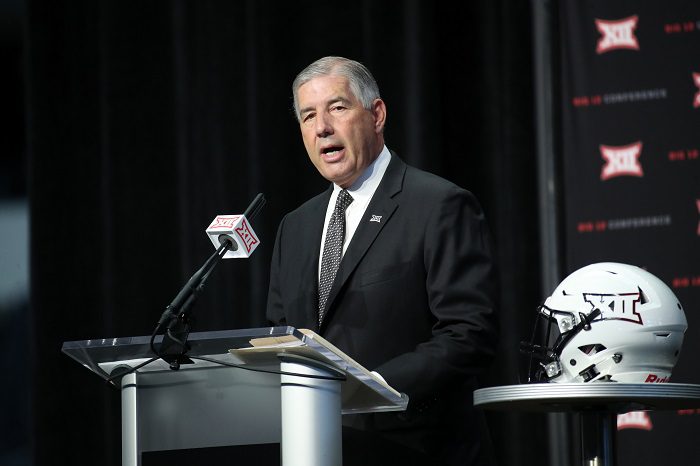 The Big 12 Conference may have a replacement for commissioner Bob Bowlsby by mid-July, according to reports from the league's annual meetings in Irving on Friday.
Texas Tech president president Lawrence Schovanec, chairman of the Big 12 board of directors, told reporters that the league is on track to meet that timeline, which means his replacement could be named by the time the league convenes in Arlington for Big 12 Football Media Days on July 12-13.
The league has been working with a search firm to find its new commissioner since Bowlsby told the league's administrators he was ready to transition away from the job he's held since 2012.
The search has been relatively tight-lipped. Most athletic directors that talked to reporters at the Big 12 meetings said one of the main criteria is to find a replacement that has experience as an athletic director or as a conference administrator in order to help the league navigate the upcoming few years. The Big 12 must negotiation a new TV contract and still manage the departure of Texas and Oklahoma, among other things.
In other Big 12 news, the league reported that it would share record revenues for its 10 league members, which comes to $426 million for 2021-22. Divided by 10, that means each school will receive approximately $42.6 million in revenue for 2021-22.
The Big 12 also announced that it extended its agreement to play the men's and women's basketball tournaments in Kansas City through 2027.
Bowlsby told reporters that the league was still trying to determine whether or not it would use a divisional alignment as new membership comes on board in 2023. The Big 12 is expecting to have BYU, Cincinnati, Houston and UCF join the league. The latter three teams are still working through their buyout with the American Athletic Conference, a necessary step for those three schools to join a year earlier than originally scheduled.
Matthew Postins can be found on Twitter @PostinsPostcard