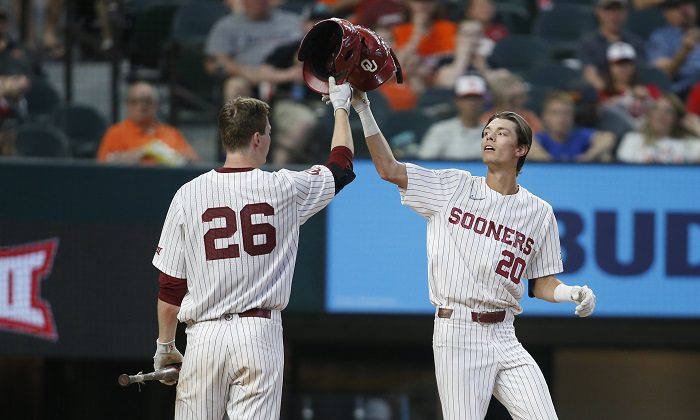 The field of 64 is set and the road to Omaha starts right now. On Friday, there were five Big 12 teams in action on the diamond as the conference went 3-2. Here are my five thoughts on the Big 12 performances from day one of the college baseball regionals.
Friday's Scores
Oklahoma defeats Liberty 16-3
#9 Texas defeats Air Force 11-3
#7 Oklahoma State defeats Missouri State 10-5
Notre Dame defeats Texas Tech 3-2
Louisiana defeats TCU 7-6
1. Can Anyone Stop Oklahoma?
I was a little shocked to see Liberty get off to an early 3-0 lead with Jake Bennett on the mound, but it didn't matter. From the second inning of this game and beyond, the Sooners put on an offensive display that Liberty won't soon forget. Wallace Clark drove in the first run for Oklahoma and then a pair of home runs by Kendall Pettis and John Spikerman helped the Sooners get the lead. Spikerman would drive in another run in the fourth inning, but it was the fifth inning that really gave the Sooners the edge here. Jack Nicklaus and Brett Squires had some key hits before Mr. Do It All Peyton Graham closed the door with his grand slam to end the inning. I have said it multiple times over the last week, but I am not sure if there is another team in college baseball right now that can hang with this Oklahoma team outside of Tennessee.
2. No Repeat for Texas
Some folks may not take midweek games too seriously in college baseball, but they still do count. The last time Texas and Air Force met up in Austin, they split a two-game set, but Air Force scored a whopping 24 runs in those two games. It was a different story on Friday as Pete Hansen took the mound and went nearly seven full innings allowing just three runs. As he was able to cool down the high-flying Air Force offense, it was Texas who found their rhythm on offense in this one. Ivan Melendez and Austin Todd got the Longhorns on the board first, but it was a big fifth inning that helped Texas pull away. There Skyler Messinger and Eric Kennedy drove in some runs, but Texas also got some help due to a few mistakes by Air Force. Austin Todd would end up putting the nail in the coffin with his two-run double in the eighth as Texas started their postseason with a big win.
3. The Longball Leads Oklahoma State to Victory
What better way to start a postseason game in O'Brate Stadium than a home run? That is exactly what happened when Nolan McLean went up to bat for the first time. Then it happened again the second time he came up to bat. With an early 2-0 lead, the Cowboys used that momentum to push away even further. In the fourth inning Roc Riggio went deep and then the Cowboys went on a tear scoring three more runs in that inning as Caeden Trenkle, Ian Daugherty, and Jake Thompson helped bring in a few runs. Missouri State would make a late push, but The Cowboys kept scoring as Griffin Doersching and Jake Thompson added three more runs. It was a great win for Oklahoma State, and they will face Arkansas on Saturday night. If you are a fan of baseball, then that is a must watch game because O'Brate will be rocking.
4. The One That Got Away
There is no other way to describe the Statesboro Regional other than bizarre. Texas Tech was set to play Notre Dame at 1 p.m. central time and the game didn't end until around 10:30 p.m. central time. No, the game didn't go on forever, but it sure felt like it with a six-hour rain delay in the bottom of the first inning with Notre Dame leading 2-0. Both teams ended up pulling their starting pitchers and went to the bullpen. That meant Chase Hampton for Texas Tech who was fantastic striking out a whopping twelve batters in just six innings. It was a 2-0 game for a long time until Easton Murrell tied the game in the eighth inning. Unfortunately, Notre Dame would take the lead in the bottom of the eighth due to a wild pitch from Mason Molina. That would end up being the last score of the game as Notre Dame moves on and Texas Tech faces elimination. Due to the delay, we won't know Texas Tech's opponent until tomorrow, but it will be either Georgia Southern or UNC Greensboro.
5. Errors Cost TCU the Game
I am not one to blame one or two plays to lose a game, but TCU made some horrendous errors that cost them a few runs. Louisiana had a 5-4 lead going into the seventh inning and TCU third baseman Brayden Taylor made a bad throw to first base that let Louisiana score a run. The same thing would happen in the eighth inning to TCU pitcher Drew Hill who also made a poor throw to first base that cost them a run. The Horned Frogs had some solid bats in this game with Tommy Sacco and Porter Brown but the struggles of Riley Cornelio on the mound hurt and so did the errors. Now TCU faces elimination against Oral Roberts on Saturday.
Saturday's Games
Non-Elimination
#7 Oklahoma State vs Arkansas (6 p.m. CT)
#9 Texas vs Louisiana Tech (6 p.m. CT)
Oklahoma vs #13 Florida (6 p.m. CT)
Elimination Games
TCU vs Oral Roberts (12 p.m. CT)
Texas Tech vs Georgia Southern or UNC Greensboro (TBD)