featured
How The Women's College World Series Has Steadily Grown Into One Of The Best Sporting Events Of The Year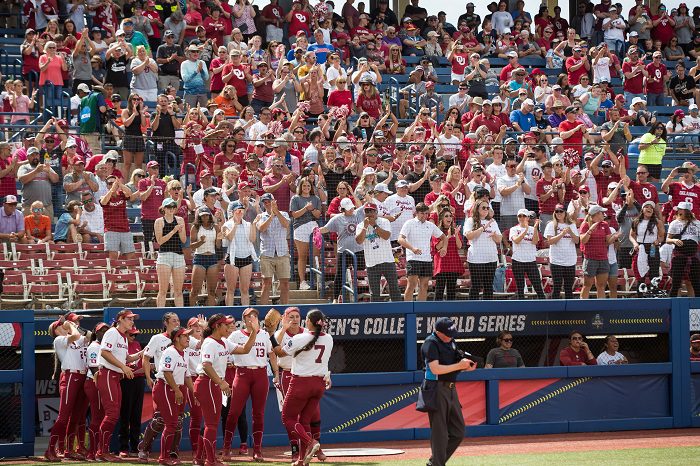 As I sat down to gather my thoughts at the breakfast table in an Oklahoma City hotel on Friday morning, I was surrounded by conversations from other travelers who had emerged from their rooms early to grab coffee before heading out for the day.
There were obviously those who sat in silence, as I did, which is probably better for all involved before the eight o'clock hour, but one table's chatter caught my attention.
From what I gathered, a family from Washington state and a couple from Lincoln, Nebraska had discovered they were in town for the same purpose: the 2022 Women's College World Series. They talked about their respective climates back home and the Oklahoma humidity among other things, but the talk revolved around softball's biggest stage.
The folks from Washington were annual attendees of the WCWS, as the Huskies are frequently a part of the field, while the Nebraskans, Northwestern Wildcats fans, we're here for the first time. As I drank my hotel coffee and watched them part ways with warm wishes, it added another reason to my list of why this event, which has grown immensely in recent years, has become something that everyone needs to experience at least once. However, like Lay's potato chips, it's going to be impossible to stop after one reach into the bag.
The Women's College World Series brings softball fans, a lively group, from all around the country into the heartland for a week of excitement, drama, and just plain, old-fashioned fun. Fans of both teams on the field boo and cheer with every call by the plate umpire and, if you wait long enough, a very well executed wave will make it's way around the stadium crowd, making you aware of the sunburn you've slowly developed on your shoulders in the Oklahoma sun. The atmosphere created by fans, dugout chants, and action on the field culminates into something beautiful for everyone to enjoy.
Perhaps the best part of the event is the young women that get to gather and watch their superheroes battle for the sport's top trophy. AAU teams, high school and junior high alike, zig and zag across the pavilion in their team jerseys, proudly declaring their inclusion in the country's fastest-growing sport. As a father of a little girl, it is a moving experience and one that has me hoping she will grow to love the sport that I cover.
I live in a state that has some of the biggest names in softball, like Oklahoma's Jocelyn Alo and Jordy Bahl or Oklahoma State's Kelly Maxwell and Miranda Elish. Names like these have sent softball's viewership through the roof, which in turn, has made the first week in June a big one in the Panhandle State, as that is the week of softball's Super Bowl.
"Yeah, just standing out there today, it is 1:30 on a Thursday afternoon, and this place is packed," Oklahoma head coach Patty Gasso said of Thursday's crowd at the WCWS.
Gasso was visibly moved by the atmosphere in OKC this year, her 15th appearance here as the Sooners' head coach.
"I will admit, I'm the oldest — I think I'm the oldest coach here. I'm the oldest coach here. So I have seen it. I have seen it for a long time. I've seen it for 28 years, and to see where we are now it just chokes you up because you are, like, Whoa, no way, wow. This is unreal. And the cameras and the zipline and the everything, there's people everywhere, it's unreal."
So, if you're in the area, or somewhere within driving distance, and looking for something to do between now and next Friday, come to Oklahoma City and experience this unique event. I assure you, you won't be disappointed.