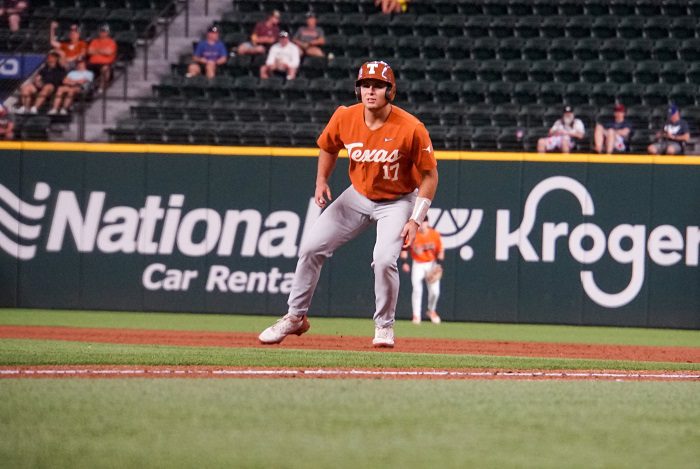 The field of 64 is set and the road to Omaha starts right now. On Saturday, there were five Big 12 teams in action on the diamond as the conference went 4-1. Here are my five thoughts on the Big 12 performances from day two of the college baseball regionals.
Saturday's Scores
TCU defeats Oral Roberts 3-1
Texas Tech defeats UNC Greensboro 2-0
Oklahoma defeats #13 Florida 9-4
#9 Texas defeats Louisiana Tech 5-2
Arkansas defeats #7 Oklahoma State 20-12
1. Sixth Inning Homers Help TCU
TCU faced elimination on Saturday against Oral Roberts, and it was a tight game for the most part. Marcelo Perez started the game for the Horned Frogs and did an excellent job on the mound. Oral Roberts had no answer for the pitching of TCU and going into the sixth inning, the game was tied at one, but Brayden Taylor broke the tie with his home run and Kurtis Byrne went yard as well to give TCU a two-run lead. From there the Frogs pitching shut the door as TCU will play in yet another elimination game on Sunday.
2. Familiar Sight, Different Feeling
Just like TCU, Texas Tech was facing elimination against UNC Greensboro on Saturday afternoon. And just like their game the night before against Notre Dame, Texas Tech struggled to find any sort of rhythm on offense. On Friday night, a wild pitch helped Notre Dame beat Texas Tech and this time it was a wild pitch and an error that got two runs across for the Red Raiders in the eighth inning. As bad as the offense struggled, Brandon Birdsell was impressive on the mound. He pitched seven full innings without allowing a single run. With the win, Tech advances to see another day of baseball in yet another elimination game.
3. Oklahoma Stays Red Hot
I will say it until it's not true. CAN ANYONE BEAT THIS OKLAHOMA TEAM RIGHT NOW? The Sooners came to Gainesville and have dominated both games they have played in so far. While they did get down 2-0 early in the game, Oklahoma's bats came alive in the third inning. There Blake Robertson gave the Sooners the lead with his three-run blast and a pair of wild pitches helped Oklahoma score a total of five runs in the inning. Jimmy Crooks would help put the Gators away with two home runs later in the game as the Sooners advance to the final round of the regional. I may sound like a broken record once again but outside of Tennessee this may be the best team in all of college baseball.
4. The Seventh Inning Push
Texas was in a tight battle for a good chunk of their game against Louisiana Tech. While Lucas Gordon and Tristan Stevens pitched a heck of a game, it took a little while for the Longhorns bats to wake up. Texas finally got going in the seventh inning as they went on to score three runs to break the tie. Ivan Melendez drove in the first run of the inning and then Murphy Stehly and Skyler Messinger helped bring in two more to give Texas a 4-1 lead. Mitchell Daily would end up adding a late insurance run in the eighth to help push Texas two the win.
5. What Happened in Stillwater?
The only way I can describe this game is insane. After Nolan McLean and Roc Riggio hit homers, Oklahoma State had a 7-2 lead. After that I honestly thought Oklahoma State would win with ease and instead, they completely collapsed. From the start of the seventh inning until the end of the game, Arkansas would go on to outscore Oklahoma State 14 to 2. The Cowboys would end up having to use seven pitchers in this game and it is one they really need to shake off because on Sunday they will play in an elimination game against Missouri State.
Sunday's Schedule
Elimination Games
#7 Oklahoma State vs Missouri State (12 p.m. CT)
TCU vs Louisiana (1 p.m. CT)
Texas Tech vs #16 Georgia Southern (1 p.m. CT)
Non-Elimination Games
#9 Texas vs Air Force or Louisiana Tech (7 p.m. CT)
Oklahoma vs #13 Florida or Central Michigan (6 p.m. CT)