featured
Kelly Maxwell Held at USA Softball Complex After Midnight For Random Drug Test on Thursday Night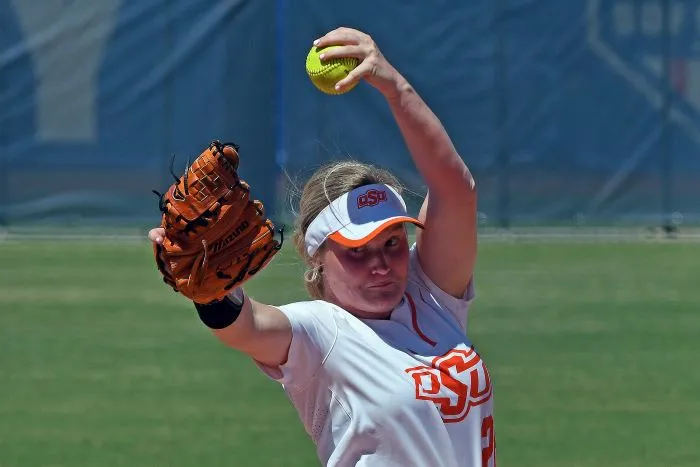 On Thursday night, the opening round of the Women's College World Series, the Oklahoma State Cowgirls defeated the Arizona Wildcats in a 4-2 slugfest that ended just after 11:30 p.m. local time.
Shortly after, the field crew prepared the field and stadium for Friday's crowd and game, as the lights and scoreboard were shut off one by one. The Cowgirls and Wildcats did postgame interviews, packed up their gear, and left the stadium in the minutes thereafter.
Well, most of them did, as some players were required to take NCAA-mandated random drug tests after the game.
One of the athletes randomly selected was Kelly Maxwell, who was fresh off a 14 K performance that saw her throw 126 pitches.
If you have ever been lucky enough to be drawn at random for an NCAA drug test, as I have, you know how uncomfortable the situation is, and that is without it being at 12:00 a.m. after playing in the biggest game of your career thus far.
According to her head coach, Kenny Gajewski, Maxwell was held at the stadium well into the Friday morning hours and didn't get back to her hotel until about 3:15 a.m. Apparently, Maxwell's test came back diluted and needed to be retaken.
Here is Gajewski's quote on the situation.
"Yeah, it was a random test, which is totally fine. I mean, I have no problems. It's part of what these kids are used to," Gajewski said after the Cowgirls' 2-0 win over Florida on Saturday night.
"So I'm just going to tell you, because I think it needs to be kind of heard. We had five kids. She was one of 'em. She went, she gave a sample immediately, okay? But if you can imagine these kids sweat like crazy and they hydrate all game long. So her sample was diluted, okay? Explain that stuff. It's wild. I don't know what we want them to be, but her sample is diluted, so now she has to sit here and try to pee again.
"I don't know if you've ever had to drug test, but it's not fun. People are staring at you. You're doing that. You're trying to test. You're tired. It's 12:00. She got back to the hotel at 3:15. If we have to play the next day, if this format hasn't changed, if we have to play again, this is a tough deal.
"I'm not mad at anyone. I just know this process needs to probably be looked at to see if we maybe can do it in the mornings of game days or something. The first games, no problem, right? They are done. But we have a long game, we start a half an hour late, then we go through this deal. It's rough."
Maxwell showed signs of fatigue against Florida on Saturday night, but still managed to go a full seven innings and dominate the game. However, her coach's insight tells us more of the story than met the eye.
"She was out of gas here tonight," Gajewski continued. "Like all of us know when you're out till 3 — she got back at 3:15. Now you have to shower, unwind, get to bed. It's a 4, 4:30 proposition with no food. She didn't get to eat. It's not like we don't have food. I'm not trying to go down that road. I'm just saying, like, so everything is disrupted in the biggest stage that we have. So I think we just have to take a look at this. If we don't talk about this kind of stuff here, it will never get changed. I know the committee is working their tails off. We got this format changed. It's awesome. I mean, it's rewarding the winning teams, and that's what we should do, okay? It's another part that we need to keep looking at this.
"These girls are important, they are highly talented, they are wound tight, their muscles are wound tight, they're fit and strong. When you disrupt rest on these type of kids at this point in a year, it really has a negative impact that can really last. So I just want to make sure that her voice is heard. She's not going to say a word. So that's really all it's about. I am not complaining about, hey, we don't feed 'em. I think that's a process that we need to address and take a look at, a hard look at."