Big 12 News
Oklahoma and Texas in Discussions to Extend Red River Rivalry as Part of SEC Future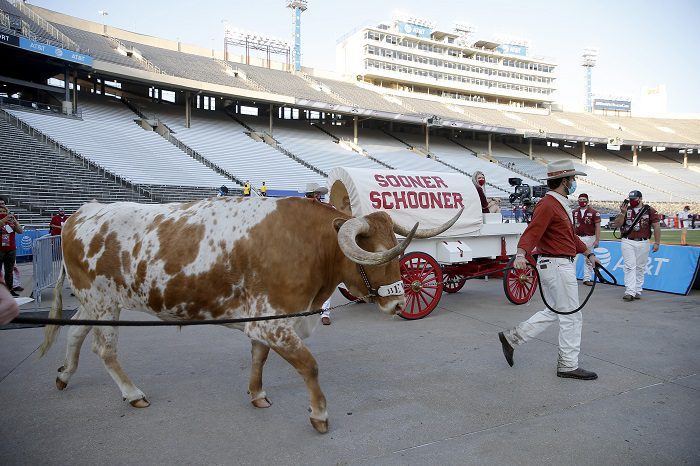 The Cotton Bowl has been host to the Red River Showdown dating back to 1932, but its current contract is set to expire in 2025. And now with both programs leaving for the SEC, could the annual match up be in jeopardy?
Texas and Oklahoma officials have been in talks with the City of Dallas to keep the Red River Rivalry at the Cotton Bowl Stadium, Oklahoma athletic director Joe Castiglione told The Dallas Morning News.
"We've had conversations about extending," Joe Castiglione said Wednesday during Big 12 meetings. "They just started since last fall. It's a little premature to talk too much about them but they've been very good."
"One way, shape or form," Castiglione said. "They'll still be a game in Dallas for the foreseeable future."
Obviously, it also depends on how the SEC plans to handle its scheduling once Oklahoma and Texas join the league for the 2025 football season.
But Castiglione says that the two schools have been a part of those conversations, adding, "The SEC has been thoughtful about engaging both Oklahoma and Texas in conversations about scheduling models in all sports."
 The SEC is talking a variety of scheduling formats including single division with permanent opponents.
Castiglione added he doesn't expect anything to change the July 1, 2025 move to the SEC, despite some speculation that the two schools could end up leaving earlier.
Meantime, the Big 12 is set to bring in BYU for the 2023-24 season, while Cincinnati, Houston and UCF are also trying to get into the Big 12 by next year, but a couple of hurdles reportedly remain. The latest the other three schools would join is 2024.