featured
Three Thoughts on Oklahoma State's 2-0 Win Over Florida in the Women's College World Series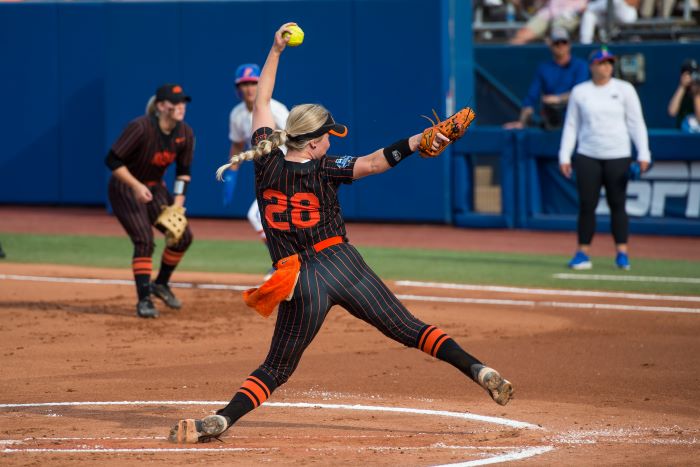 Kenny Gajewski and the Oklahoma State Cowgirls moved one game closer to the WCWS Championship Series with a 2-0 win over a tough Florida Gators team on Saturday night in Oklahoma City.
The Cowgirls will now get Sunday off in preparation for the semifinals on Monday where they will take on the winner of Arizona vs. Texas (Sunday, 5:00 p.m. CT).
The win sets up Oklahoma State nicely to make the Championship series, as the Pokes are 2-0 and need just one more win to make it in. With that in mind, here are three thoughts on the Cowgirls' victory over Florida.
Kelly Maxwell Makes Her Case For WCWS MOP
Yes, I am aware of what Oklahoma is doing on the other side of the bracket, but the performance from Maxwell through two games has been nothing short of spectacular. Maxwell struck out nine Florida batters, bringing her weekend total to 23, but that wasn't the most impressive stat.
The junior left-hander held Florida to 3-24 (.125) at the plate, which is no small feat. This Florida offense has been rolling recently, but they were no match for the best pitcher of this tournament. Without a doubt, Kelly Maxwell has made herself a frontrunner for the Women's College World Series Most Outstanding Player and it's not particularly close at this point.
Oklahoma State Offense Does Just Enough
For the second straight game, Oklahoma State's offense was sparse at times, but it did what it needed to do to win. A single from Chyenne Factor got Julia Cottrill across home plate in the thrid inning, and then one inning later Cottrill returned the favor with a single that brought Sydney Pennington home.
It might not be flashy or headline-worthy, but the Oklahoma State offense is clutch, and that counts for a lot at this stage of the season. Oklahoma State's magic number is three: if they can score that many runs, I believe they can win any game that Kelly Maxwell is pitching in. Tonight, they scored two and got the job done, so that itself further proves my point.
Oklahoma State is One Win Away From Championship Series
After going 2-0 through the first weekend of the Women's College World Series, the Oklahoma State Cowgirls are just one win away from being right where they want to be: the WCWS Championship Series. The arm of Kelly Maxwell has taken this team incredibly far, and it appears that she just might take them somewhere they have never been.
This Oklahoma State team is built for big moments and they have thrived in them all season. Now, on the cusp of greatness, the Cowgirls have a real chance to take home the hardware. All that stands between them is the winner of Texas and Arizona, both of whom the Cowgirls have defeated already this season.