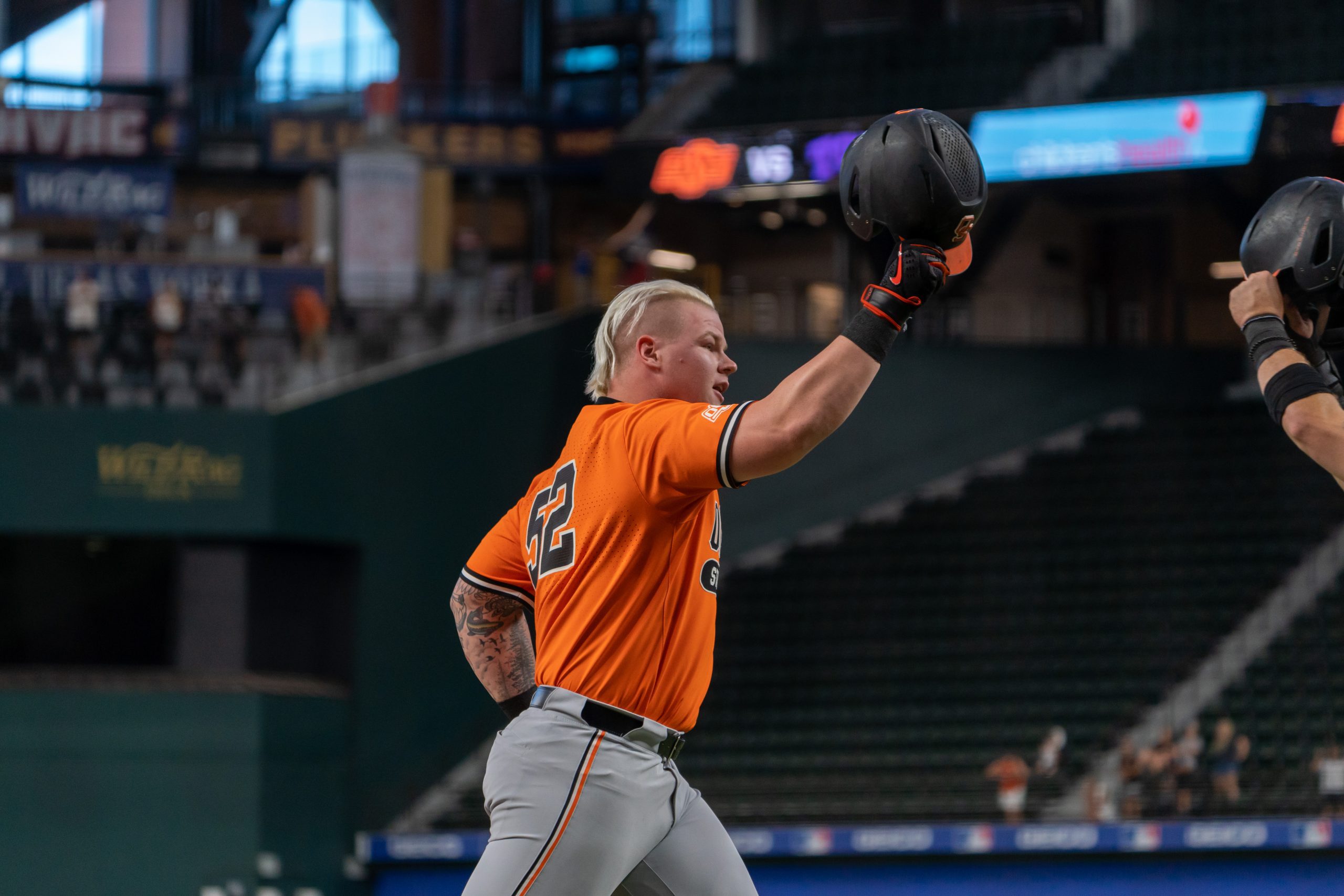 The field of 64 is set and the road to Omaha starts right now. On Saturday, there were five Big 12 teams in action on the diamond as the conference went 5-3. Here are my five thoughts on the Big 12 performances from day two of the college baseball regionals.
Sunday's Scores
Elimination Games
Texas Tech defeats #16 Georgia Southern 3-1
Notre Dame defeats Texas Tech 2-1
TCU defeats Louisiana 6-1
#5 Texas A&M defeats TCU 15-9
#7 Oklahoma State defeats Missouri State 29-15
#7 Oklahoma State defeats Arkansas 14-10
Non-Elimination Games
#9 Texas defeats Air Force 10-1
#13 Florida defeats Oklahoma 7-2
1. Where Was the Offense for Texas Tech?
The Red Raiders may have won two games in the Statesboro regional including a win over host Georgia Southern, but they never once looked like the Texas Tech team I am familiar with. I am used to Texas Tech scoring a bunch of runs and they arguably have the best lineup in the entire Big 12 when it comes to hitting the baseball. However, this entire weekend they played a total of four games and scored just eight runs in those four games. Forget about a player or two in a slump, their whole team was in a slump pretty much the entire weekend. They missed opportunity after opportunity with runners in scoring position and it cost them two games against Notre Dame. For whatever reason, this team struggled to get runs across the plate and now they will be heading back to Lubbock after being eliminated.
2. The Eighth Inning Nightmare
Well, it turns out that the Sooners are beatable after all because Florida was able to take them down on Sunday night. The Gators had just a 3-2 lead going into the eighth inning and then Oklahoma collapsed. In that inning, Jud Fabian hit his second homer of the day and then a passed ball and an error helped Florida get some more runs across. We normally don't see the Sooners struggle like that but in college baseball anything can happen. As bad as the loss hurts, Oklahoma will get another shot at Florida on Monday afternoon. The winner of that game will advance to the Super Regionals while the loser will go home for good.
3. Texas Punches Their Ticket to the Super Regionals
Going into the postseason, we all knew that Texas had the talent to make some noise. Turns out, they were pretty darn good this past weekend. Texas hosted a regional in Austin and took care of business finishing 3-0. Ivan Melendez started Sunday with a home run that put two on the board and then a passed ball and a Trey Faltine hit gave Texas an early 5-0 lead. Dylan Campbell would go on to hit two bombs in Sunday's game against Air Force as Texas took their final game with ease winning 10-1. With the win, Texas is the first Big 12 team to advance to the Super Regionals. They will face the winner of the East Carolina/Coastal Carolina game. If Coastal wins, then Texas will be hosting next weekend but if East Carolina wins, the Longhorns will be hitting the road.
4. Oklahoma State Has Nine Lives
I have watched plenty of college baseball in my lifetime and this Stillwater Regional may be the craziest I have ever seen. Oklahoma State blew a huge lead on Saturday night against Arkansas and then found themselves down 12-0 against Missouri State on Sunday afternoon in an elimination game. Somehow, the Pokes managed to win that game against Missouri State 29-15. Yes, that is right, 29-15. That is pretty whacky considering the Oklahoma State football team was only able to score 23 points against Missouri State last season.
After a five-hour game against Missouri State, the Cowboys then had to face Arkansas once again. They were able to get out to a 6-2 lead but yet again, Arkansas came storming back and even took the lead in the bottom of the eighth inning after Michael Turner's two run blast. However, Marcus Brown and David Mendham would help get Oklahoma State back on top with their hits but once again, Arkansas answered back with Brady Slavens clutch hit to tie the game at ten. Of course, this wild game had to go to extra innings but this time it was Oklahoma State who came out on top. Aidan Meola drove in a pair of runs before Nolan McLean put the exclamation mark on the game with his big two-run shot to left field. It was McLean's fifth home run of the regional and it was a big one. As exciting as this game was, we will get a rematch on Monday night, and I can't wait.
5. A Texas Sized Collapse
The Horned Frogs came into Sunday needing to win two games to make it to Monday. They were able to beat Louisiana in a rematch on Sunday afternoon but fell to Texas A&M late Sunday evening. While the Frogs got off to a 3-0 lead, the Aggies came storming back scoring seven runs in the sixth and seventh inning. With A&M up 7-3, TCU needed some big hits and they got them from Tommy Sacco and Brayden Taylor who blasted a three-run shot to tie the game. A&M would go back up one in the next inning, but TCU's Tommy Sacco had a clutch two-run homer to give TCU a 9-8 lead going into the final inning. However, the Frogs had a Texas size meltdown as the Aggies were able to score seven runs in the top of the ninth inning to knock off TCU.
Monday's Schedule
Elimination Games
Oklahoma vs #13 Florida (12 p.m. CT)
#7 Oklahoma State vs Arkansas (6 p.m. CT)