Big 12 News
Michael Bishop, Justin Blackmon, Josh Heupel Highlight Former Big 12 Players on 2023 College Football Hall of Fame Ballot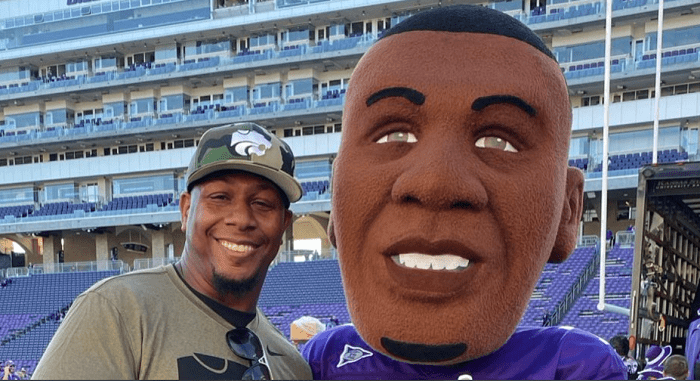 The 2023 College Football Hall of Fame ballot was announced on Monday and several former Big 12 names found themselves on the list.
Some of the most familiar names on the list include former Oklahoma State wide receiver Justin Blackmon, Kansas State quarterback Michael Bishop and Oklahoma quarterback Josh Heupel.
Other Big 12 players include: Oklahoma linebacker Rocky Calmus, Texas linebacker Derrick Johnson, Texas offensive lineman Dan Neil, and Oklahoma defensive lineman Dewey Selmon.
Michael Bishop, Kansas State-Quarterback-1998 consensus First Team All-American and winner of the Davey O'Brien Award…1998 Heisman Trophy runner-up who led the Cats to 1998 Big 12 North title and berth in conference championship…Two-time all-Big 12 selection, setting 14 conference and 34 school records by career's end.
Justin Blackmon, Oklahoma State-Wide Receiver-Two-time unanimous First Team All-American and one of only two players ever to win the Biletnikoff Award twice…2010 Big 12 Offensive Player of the Year en route to finishing fifth in Heisman Trophy voting…2012 Fiesta Bowl Offensive MVP holds NCAA record for consecutive 100-yard receiving games (14).
Josh Heupel, Oklahoma-Quarterback-2000 consensus First Team All-American and Walter Camp Player of the Year…2000 Heisman Trophy runner-up who led the Sooners to a national title at the 2001 Orange Bowl…2000 Big 12 Player of the Year who left OU with virtually every school passing record despite only playing two seasons.
Rocky Calmus, Oklahoma-Linebacker-Two-time consensus First Team All-American and 2001 Butkus Award winner…OU's all-time leader in TFL (59) helped Sooners to the BCS National Championship at the 2001 Orange Bowl…2000 Big 12 Defensive Player of the Year and four-time All-Big 12 performer posted 431 career tackles.
Dewey Selmon, Oklahoma-Defensive Lineman-1975 consensus First Team All-American and member of consecutive national championship teams (1974, 1975)…Two-time First Team All-Big Eight selection who led OU to four league titles…Twice recorded 100-plus tackles in a season and part of defensive unit that allowed just 11.1 ppg from 1973-75.
Derrick Johnson, Texas-Linebacker-Two-time First Team All-American (consensus-2003, unanimous-2004) and recipient of the 2004 Butkus Award and Nagurski Trophy…2004 Big 12 Defensive Player of the Year and three-time First Team All-Big 12 performer…Led Horns to three 11-win seasons and ranks third all-time at UT with 458 career tackles.
Dan Neil, Texas-Offensive Lineman-Two-time First Team All-American, earning consensus honors as a senior…Helped Horns offense rank 11th nationally in total offense (451.8 ypg) and 12th in scoring offense (34.4 ppg) in 1996…Two-time All-Conference selection who set the UT record for consecutive starts.
The voting deadline for the 2023 College Football Hall of Fame is June 30th with the announcement of the class to follow. The class will be inducted in December.
The criteria for Hall of Fame consideration include:
First and foremost, a player must have received First-Team All-America recognition by a selector that is recognized by the NCAA and utilized to comprise its consensus All-America teams.
A player becomes eligible for consideration by the Foundation's Honors Courts 10 full seasons after his final year of intercollegiate football played.
While each nominee's football achievements in college are of prime consideration, his post-football record as a citizen is also weighed. He must have proven himself worthy as a citizen, carrying the ideals of football forward into his relations with his community. Consideration may also be given for academic honors and whether the candidate earned a college degree.
Players must have played their last year of intercollegiate football within the last 50 years.* For example, to be eligible for the 2023 ballot, the player must have played his last year in 1973 or thereafter. In addition, players who are playing professionally and coaches who are coaching on the professional level are not eligible until after they retire.
A coach becomes eligible three full seasons after retirement or immediately following retirement provided he is at least 70 years of age. Active coaches become eligible at 75 years of age. He must have been a head football coach for a minimum of 10 years and coached at least 100 games with a .600 winning percentage.
Nominations may only be submitted by the current athletics director, head coach or sports information director (SID) of a potential candidate's collegiate institution. Nominations may also be submitted by the president/executive director of a dues-paying chapter of the National Football Foundation.