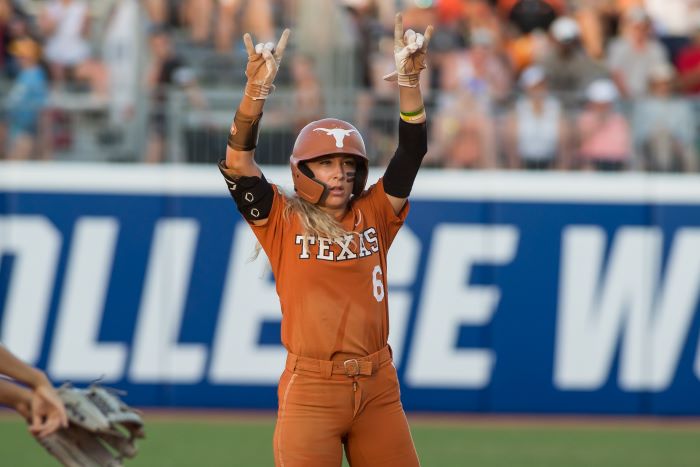 Texas punched its ticket to the Women's College World Series championship series on Monday night and while it meant taking down a team they'd failed to defeat in four tries this season, they didn't care as the downed the Cowgirls in back-to-back games, winning 5-0 and 6-5.
The victory ensures that we will have the Red River Rivalry for the National Championship. The Longhorns and Sooners, the last two teams standing in Oklahoma City, will battle it out in their second three-game series of 2022, but this one will have much more than Big 12 bragging rights on the line.
With that in mind, here are three thoughts on the Longhorns' massive win and what it means going forward.
Texas Makes History with WCWS Finals Bid
For the first time in Women's College World Series an unseeded team has made it all the way to the Championship Series, and that team is the Texas Longhorns. Things weren't easy for the Longhorns, as they had to go through No. 13 Washington in Seattle, No. 4 Arkansas in Fayetteville, No. 5 UCLA, and No. 7 Oklahoma State to get here.
Hailey Dolcini and Estelle Czech anchored a pitching staff that has kept Texas in striking distance all postseason long.
Players like Janae Jefferson, Mia Scott, Bella Dayton, and Courtney Day really elevated the offense for Texas down the stretch and gave UT what they needed to get through a minefield to get the the finals.
Kelly Maxwell's Amazing Postseason Run Comes to an End
Since the beginning of the 2022 NCAA tournament, Kelly Maxwell recorded an incredible 75 strikeouts. If you average that out over her season, that would mean that roughly 24% of Maxwell's strikeouts on the season came in her last seven games. That is ridiculous anyway that you slice it, and goes to show how important she has been to this run for Oklahoma State.
The Cowgirls' postseason run was incredible and Kelly Maxwell's performances were at the very heart of that. She goes into next season as arguably the top arm in the country and gives Oklahoma State a very important piece to build around in 2023.
Oklahoma State's Two-Error Play in the Fifth Decides Game
The Oklahoma State defense has been an absolute strength all season long, but a 10-second lapse in judgement cost them a chance at that 2022 National Championship. The play began when Bella Dayton hit a single through the right side, which right fielder Karli Petty had a hard time fielding it, leading to an error that allowed Jordyn Whitaker to score.
Unfortunately it got worse from there, as Petty got the ball to the infield where Hayley Busby attempted to throw out Mia Scott at second base, but the ball went wide of its target and went all the way to the center field wall. That error brought Scott home, and also allowed Dayton to score, an in-the-park home run to give Texas the 6-5 lead, a score that held up to the end.