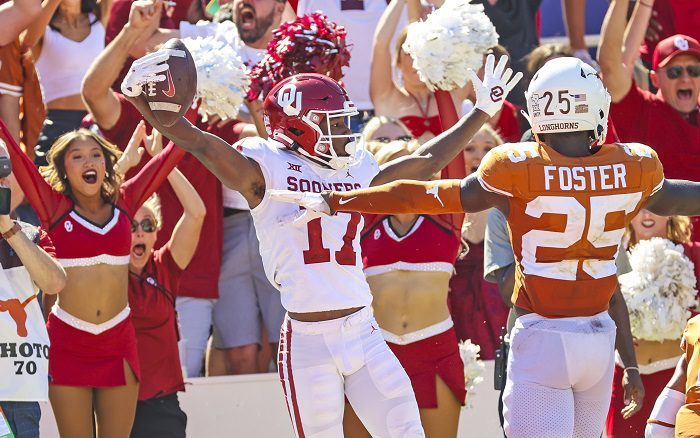 On3 recently started to release its College Football Impact 300, a comprehensive list of the top 300 players in college football entering the 2022 season, along with their approximate NIL value entering the year.
Among those players are several receivers, of which On3 took the top ten and released them on Wednesday.
Among the top ten receivers in college football going into 2022, four of them are from the Big 12: No. 4 Marvin Mims, No. 5 Xavier Worthy, No. 8 Xavier Hutchinson, and No. 9 Isaiah Neyor.
Here is the list, posted on Twitter by On3Sports.
Here is what On3's Nikki Chavanelle had to say about each of the Big 12's top receiving threats.
Like Boutte, Marvin Mims is chasing his first 1,000-yard season but he's still in the conversation for the first round of the draft in 2023. Last season, Mims had 32 receptions for 705 yards. His NIL value is $589,000.
Steve Sarkisian's offense is working out well for Xavier Worthy. He posted 981 yards and 12 scores on 62 receptions as a true freshman, and that was with quarterback drama. Worthy has an NIL value of $623,000 heading into his second year at Texas.
The 2022 season could be a big one for former Blinn C.C. wideout Xavier Hutchinson. He had 83 receptions for 987 yards and five scores for the Cyclones in 2021. His NIL value is currently $431,000.
The Longhorns went out and picked up another top-10 wide receiver in Isaiah Neyor from Wyoming this offseason. He finished 2021 with 878 yards and 12 touchdowns on 44 receptions. He had a 19.95 yards per catch average. Neyor's NIL value went from $35,000 to $339,000 since his transfer. He was the No. 9-ranked player in the portal.