Oklahoma Sooners
NCAA Baseball 2022 Super Regionals: Four Things to Watch For the Big 12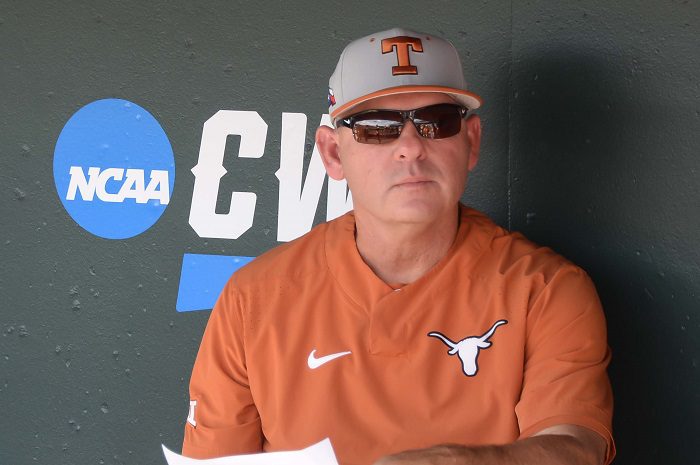 The road to Omaha began last week as 64 teams started their postseason journey. Now the field has been cut down to just 16 as we head to the Super Regionals. There are just two Big 12 teams left with Texas and Oklahoma as both of them will be on the road. Here are my four things to watch this weekend in the Super Regionals.
1. Can Texas pitching stay dominant?
By now we all know just how good the Longhorns have been at the plate. Texas has four players who are batting over the .300 mark with Ivan Melendez, Murphy Stehly, Skyler Messinger, and Douglas Hodo. Of course, Trey Faltine has been excellent as well. There is no question about the bats of Texas, but I was really impressed with the way Texas pitched in the Regionals. Last weekend Texas used Pete Hansen and Lucas Gordon in their first two games and started Travis Sthele in the final game against Air Force. While they did end up using three other pitchers in that game, I am curious to see what Texas will do if this series against East Carolina gets to a game three. Maybe Tristan Stevens will be the guy.
2. Don't Sleep on East Carolina
I know some people may not be familiar with East Carolina, but they have been a solid baseball program over the years. Head coach Cliff Godwin has made the program even better under his watch and this year is no different. The Pirates played in a bad American Athletic Conference this year, but they absolutely dominated this season. They won their conference with ease and have won 21 out of their last 22 games. I don't care what conference they play in because that is impressive.
East Carolina has two really good power hitters with Bryson Worrell and Jacob Jenkins-Cowart. They also have some other solid bats on their team as well. But I have also been impressed with their pitching. Like I said before I know the rest of the AAC wasn't great this year but Carter Spivey and C.J. Mayhue have ERAs under 3 which is not easy to do. This is not a team to take lightly which I am sure Texas will not. East Carolina was a top eight seed for a reason folks.
3. Virginia Tech Can Hit
Earlier in the season I didn't know how good this Virginia Tech team was and they turned out to be legit. The Hookies finished as the regular season ACC champions and the ACC was a conference who ended up with nine teams in the NCAA tournament. While Virginia Tech has some arms on the mound what has really impressed me has been their offense. They finished second in the ACC with 118 long balls, and they have seven players who have hit ten or more home runs. Their entire lineup is dangerous, and they showed that in the regionals game because they were able to score a whopping 46 runs in only three games. I hope the Oklahoma pitching staff is ready because they will have a tough task ahead.
4. Can Oklahoma Keep the Momentum Going?
Since late April, the Oklahoma Sooners have been the best team in the Big 12 Conference. They finished the regular season with five straight conference series wins and were just a win shy of clinching a share of the Big 12 regular season title. Then they went a perfect 4-0 in the Big 12 tournament and were snubbed of a host bid in the regionals. But that didn't matter because they took care of business in Gainesville as they knocked off Florida twice in three games to get here.
All this team has done is win and they have been a very balanced team. Peyton Graham is arguably one of the best players in all of college baseball and Jimmy Crooks, Blake Robertson, and Tanner Tredaway have been fantastic this season as well. I also like the pitching trio of Jake Bennett, David Sandlin, and Cade Horton. Those three guys combined with their four sluggers could be enough to get this team to Omaha.
Fun Facts
Texas hasn't traveled to a Super Regional since 2005. Since then, all of their other Super Regionals have been in Austin. Oh, and that 2005 team won a national title.
East Carolina has never been to Omaha but this their fourth appearance in the Super Regionals since Cliff Godwin took over back in 2015.
This is the first time Virginia Tech ever has played in a Super Regional.
This is Oklahoma first trip to a Super Regional since 2013 and they are looking for their first trip to Omaha since 2010.