featured
Three Thoughts on Oklahoma's 2022 WCWS National Championship Win vs. Texas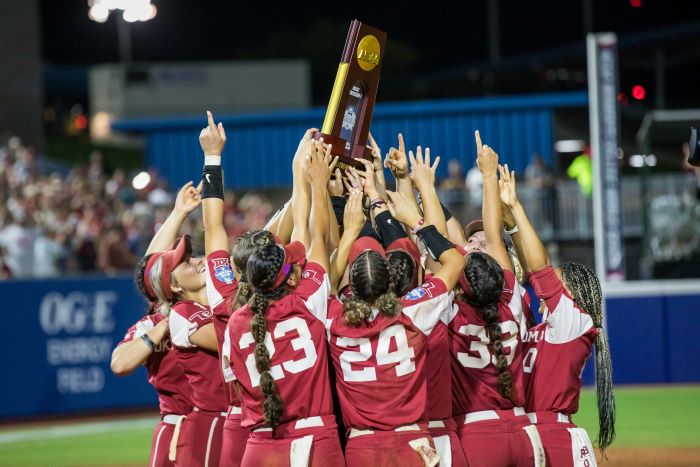 The Oklahoma Sooners completed their magical season on Thursday night in front of a record crowd of 12,257, defeating the Texas Longhorns 10-5 and taking home the 2022 Women's College World Series National Championship.
Oklahoma looked to be the team of destiny this season, as they crushed nearly every opponent that they faced and had a winning record against the three teams that managed to steal a game from them.
The Sooners finish the 2022 season with a 59-3 record, while Texas finished the year at 47-22-1 and has a lot to hold their head high about as they became the first team in history to make the championship series as an unseeded team.
Here are three thoughts on the Sooners' victory and a closing to one of the best seasons that any team, in any sport, has ever had.
Oklahoma Defense Shines in Bright Lights of OKC
All week, and all season for that matter, the Oklahoma offense has been the storyline that follows this team around, and for good reason. The Sooners scored 579 runs in 2022, putting them in second place all-time for runs in a single season, behind the 1995 Arizona team that put up an astonishing 629 runs.
While the offense showed up in this game late, putting 10 runs on the board, the defense is the side of the ball that held things down. When things got off to a shaky start, the defense kept Oklahoma in the game.
Whether it was Jayda Coleman robbing Texas batters of home runs, Alyssa Brito's diving catch in left field, or Grace Lyons turning double plays, the Oklahoma defense was stellar on Thursday night, as it has been all season long, and that is why they are national champions.
Oklahoma Offense Caps Off Historic Week at WCWS
Oklahoma's offense in 2022 was absolutely bonkers, putting up record numbers while only playing five innings in the majority of their games. Despite that, they managed to put up runs in droves all season, and that intensified this week at the Women's College World Series. In all, the Sooners scored 64 runs in Oklahoma City, a new WCWS record, and the record was broken by a wide margin. For context, Oklahoma was the first team to eclipse the 50-run mark in OKC, and they did that by 14 runs.
When OU scores, it is in bunches, like an avalanche that rebuilds every inning. In their final three games of the year, the Sooners scored 15, 16, and 10 while allowing a total of six points in those games. This team was on a mission, and without a doubt was the best team in Oklahoma City all week long.
2022 Oklahoma Was The Best Team to Ever Play Softball
This Oklahoma team will go down in the history books as national champions, but they were more than that. In an alternate reality where we gather the best teams of all time for a winner-take-all tournament, I would bet the house on this team to take it home.
When challenged, 2022 Oklahoma responded in big ways, outscoring opponents 39-0 combined when coming off their three losses of the season. In 61 games, Patty Gasso's Sooners outscored their opponents 579-65, making the average score for an Oklahoma game this season 9.5-1.0. By my calculations, that comes out to a run-rule average margin of victory which they did a record 41 times this season.
A team led by All-Americans Jocelyn Alo, Tiare Jennings, Jayda Coleman, and Grace Lyons, and a pitching staff that combined three of the nation's Top 10 individual ERA's made a monster of a team that was nuclear more times than it wasn't. 2022 Oklahoma vs. the Field? I'm taking the Sooners.