Oklahoma Sooners
Three Thoughts on Oklahoma's 5-4 Win Over Virginia Tech in the NCAA Baseball Super Regionals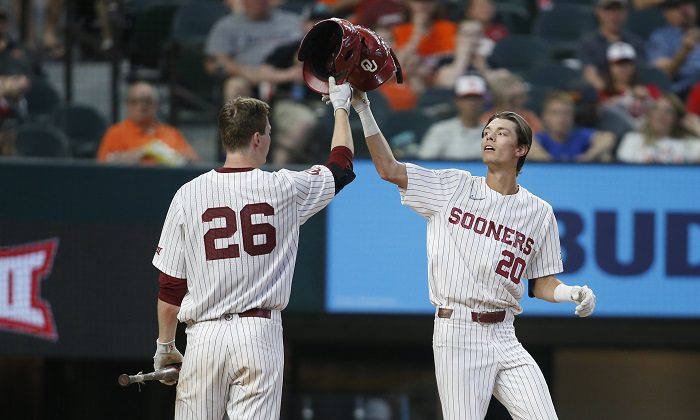 The road to Omaha began last week as 64 teams started their postseason journey. Now the field has been cut down to just 16 as we head to the Supers. The Oklahoma Sooners started their Super Regional in Blacksburg, Virginia to take on Virginia Tech. Here are my three thoughts on the Sooners win over the Hokies on Friday afternoon.
1. The Bats Were Great
It feels like every time I watch the Sooners, they are able to jump out to an early lead. Once again, they started off hot scoring three runs in the first two innings. Blake Robertson drove in a pair of runs right off the bat and then Kendall Pettis and John Spikerman helped out as well. The Sooners were then able to score two more runs in the sixth inning as they held a 5-0 lead going into the bottom of that inning. That was a huge boost for this team despite giving up some late runs. I love the way this team fights at the plate and it has really worked out well for them.
2. Jake Bennett Did Enough to Win
Some people may look at giving up four runs a bad thing, but I am here to tell you that Jake Bennett did more than enough in this game. Virginia Tech entered the postseason with 118 home runs which was the second most in the ACC. They have seven players in their lineup with double digit home runs this season and it is one of the hardest lineups in college baseball to pitch against. Jake went seven full innings and was able to strike out eight batters. He was great for the first five innings before giving up two homers later in the game. Still, I was impressed with the way he played on Friday. Jake has been a key part of the Sooners success over the last couple of months and he continues to play well.
3. This Team Finds Ways to Keep Winning
It seems like over the last few weeks, Oklahoma has been on a roll. They ended the regular season winning five straight series and they went on to win the Big 12 tournament with a perfect 4-0 record. Then they went to Gainesville and took care of Florida to get to the Super Regional. Oklahoma has been the hottest team in college baseball outside of Tennessee and once again they were able to get a win against an impressive Virginia Tech team on the road. That's not easy to do and now they find themselves just a single win away from making a trip to the College World Series for the first time since 2010.