Oklahoma Sooners
Three Thoughts on Oklahoma's 14-8 loss to Virginia Tech in the NCAA Baseball Super Regionals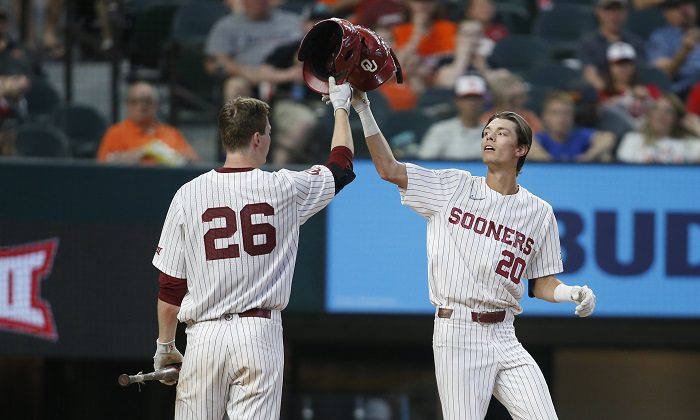 The road to Omaha began last week as 64 teams started their postseason journey. Now the field has been cut down to just 16 as we head to the Supers. The Oklahoma Sooners started their Super Regional in Blacksburg, Virginia to take on Virginia Tech. Here are my three thoughts on the Sooners loss to the Hokies on Saturday afternoon.
1. David Sandlin Wasn't Great
I have raved about this Oklahoma pitching staff multiple times over the last few weeks because they have played extremely well. Ever since the month of May started, they have been one of the best staffs in the entire Big 12 Conference. Even when ace pitcher Jake Bennett gave up four runs against Virginia Tech on Friday, I was still impressed because the Hokies have one of the best hitting lineups in all of college baseball. Just like Bennett, David Sandlin has played a key role as a starting pitcher for the Sooners. He got the start on Saturday and really struggled. David lasted less than four innings as he gave up five earned runs. While he did manage to strike out six batters in his brief time on the mound, he did give up three back breaking home runs that put his team in the hole early in the game. If Oklahoma wants to get to the College World Series, then they will need some better pitching on Sunday.
2. The Offense Did Their Part
I don't care what happens in a baseball game because if you are able to score eight runs in a game then that should be more than enough to win. Of course, for Oklahoma, it was the usual suspects who came up big for them once again. Jimmy Crooks drove in a pair of runs as well as Blake Robertson. Even Tanner Tredaway went deep as well. Their offense certainly made the game interesting in the eighth inning and made a strong push to try and win the game for them. If Oklahoma scores eight runs again on Sunday, then they shouldn't worry too much at the plate. They did their part, but the pitching just needs to step it up a notch to actually win the game.
3. It's Win or Go Home
Just last week, the Sooners were facing an elimination game in Gainesville and were able to come out alive. This time they must do it once again in Blacksburg on Sunday. Oklahoma hasn't been to a College World Series since 2010 and if not for the 2020 season being cancelled then they may have made it then as well. This is Oklahoma's time, and this team is certainly good enough to make a trip to Omaha and make some noise there. But first, they must take care of business against Virginia Tech.