Oklahoma Sooners
Four Thoughts on Oklahoma's 11-2 Win Over Virginia Tech in the NCAA Baseball Super Regionals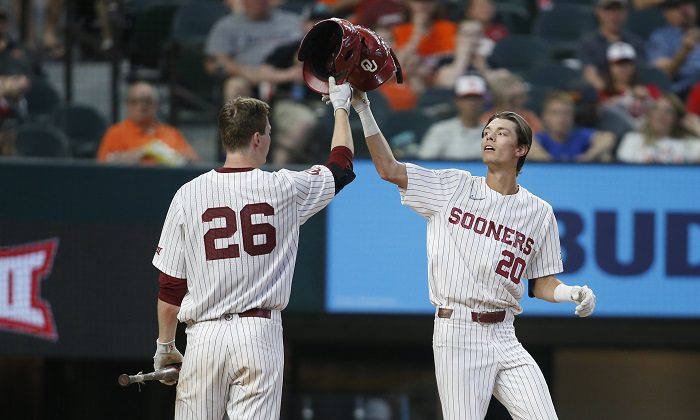 The road to Omaha began last week as 64 teams started their postseason journey. Now the field has been cut down to just 16 as we head to the Supers. The Oklahoma Sooners started their Super Regional in Blacksburg, Virginia to take on Virginia Tech. Here are my four thoughts on the Sooners win over the Hokies on Sunday afternoon.
1. Cade Horton Was Fantastic
Oklahoma has had some really good offensive performances over the last few weeks, but the pitching staff has really stepped it up as well to make this team dangerous. Cade Horton got the start on Sunday in a decisive game three, and he certainly made his presence felt on the mound. Cade struck out eight batters and allowed just two earned runs in six innings of work. He had control throughout his performance and Virginia Tech had a tough time trying to get anything going at the plate. Outside of Cade, Chazz Martinez and Trevin Michael helped close out the game. Neither one of them gave up a run as both of them were solid filling in.
2. The Offense Was Hot Once Again
As good as Oklahoma has been on the mound, they have really seemed to hit well during their dominant streak. This offense has plenty of capable bats and of course they had their key guys step up when needed. Tanner Tredaway hit two homeruns in this game and also had another clutch hit in the fifth inning that scored a run. He finished the day with a team high three RBIs and has continued to be a force at the plate this season. Joining the home run party was Peyton Graham, Jack Nicklaus, and Kendall Pettis. The longball was in play for the Sooners and they absolutely crushed anything thrown their way on Sunday afternoon. If Oklahoma keeps on hitting this well than they can beat anyone in the entire country.
3. Kendall Pettis Was Awesome
The trio of Peyton Graham, Tanner Tredaway, and Blake Robertson get a lot of love, but it is time to show some to Kendall Pettis. He had an amazing catch in the fourth inning and then he went deep later in the game. Kendall has become a key part of this team and has really played this postseason.
4. Welcome to Omaha
After being picked to finish sixth in the Big 12 Conference, nobody really gave this team a chance to make it this far. The Sooners had a disappointing 2021 season but have really made some noise this season. They finished the regular season with five straight series wins and won the Big 12 tournament a couple of weeks ago. After winning the Gainesville regional, they beat a really good Virginia Tech team on the road to advance to their first College World Series appearance since 2010. I picked Skip Johnson as my Big 12 Baseball coach of the year after the regular season ended and he is certainly worthy of that honor and more. The man has done an excellent job in Norman, and I know this team isn't done just yet. This team is good enough to win a national title.