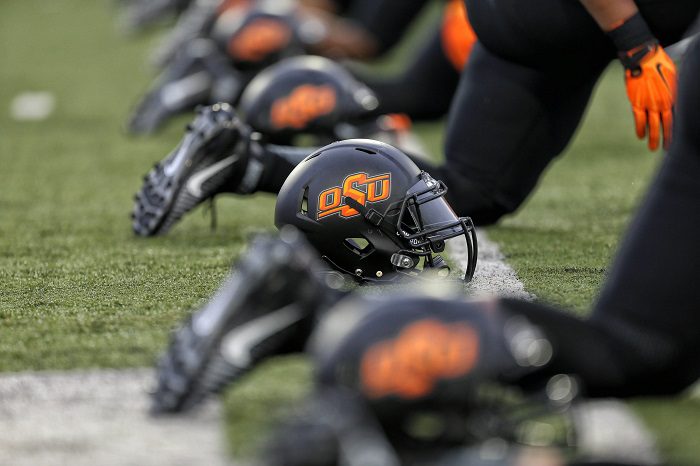 College football polls and predictions for the 2022 season are beginning to heat up. Mid-June is the time of year when most projections for the year are solidified, so there should soon be a ton of movement in the betting markets.
For Oklahoma State fans, there are lots of reasons to be excited about the upcoming campaign. The Cowboys will be looking to build off of what was a phenomenal season.
After starting the season outside of the Top 25, OSU managed to end the season with a Fiesta Bowl victory over Notre Dame and cap off Mike Gundy's 17th year as head coach at #7 in the AP and Coaches Polls.
But how is the outlook for how OK State will perform this year?
"Most of the sports betting apps we work with have Oklahoma in prime sleeper position to make a run for the College Football Playoffs," betting expert Pat Corkery of BettingApps.com was recently quoted as saying. "They're positioned quite favorably compared to teams who finished in similar positions last season. Ohio State and Michigan State, for example – nice enough for a great return on a longshot bet, but not so far down the list that you feel like a sucker for putting your money down on them."
Oklahoma State Win Total Over/Under (O/U 8.5)
After perhaps over-performing last season, posting an 11-1 regular season record, Vegas seems to think Gundy's squad will regress to the mean a bit this year.
The logic is sound, when you think about it, as Oklahoma State did finish a remarkable 4-1 in one-score games last season even against tough opponents. In such a close game, the ball could always bounce the other way once or twice, and all of a sudden you're 2-3 in those scenarios instead of 4-1. When you factor in a tough schedule that includes the likes of Baylor, Texas, and Oklahoma as in-Conference match-ups for the season, you can imagine a drop-off.
But still, the Cowboys would have to regress quite a bit to go under the 8.5 win mark set to them by the bookies. Even if they fall to 9-3 in the regular season instead of 11-1, then they'd still hit the over.
Betting Apps' Pat Corkery marked this as one of his favorite bets of the college football preseason, "Most sportsbooks are currently giving you plus odds just to bet on Oklahoma State not dropping three games off their record last season. I'll take those odds any day."
Oklahoma State Odds to win the Big 12 (+600, T-3rd)
The books have OK State tied with Baylor as the third-best odds to win the Big 12, trailing behind Oklahoma (+200) and Texas (+250).
The Longhorns are looking to bounce back in a big way after a disappointing 2021, but Vegas still has given Texas good odds to put some wins together in 2022 as they should be much improved. With Lincoln Riley's departure, Oklahoma doesn't feel quite as intimidating as they have in years past. Still, it's no surprise to see them at the top of the list.
After losing in the Big 12 Championship to Baylor, one might expect both the Cowboys and Bears to be shown a little more love by the sportsbooks. Those two teams are probably good bets at +600 odds.
Oklahoma State Odds to Win the National Championship (+10000, T-16th)
It will always be difficult to hit a longshot bet on a National Championship winner in the preseason. There are usually a few selected favorites near the top – Alabama, Georgia, Ohio State, and Clemson in recent years – and one of those teams usually end up winning the whole thing anyway. "The house usually wins on preseason championship bets," Corkery said. "There are just too many options with too few realistic outcomes."
Oklahoma State's odds for next season are placed firmly in the middle of the pack, tied with Tennessee, Texas, LSU, and Florida at 16th on the pecking order.
"Are they worth taking a small flyer on if you're a fan or just really believe? Absolutely. A winning $10 bet with those odds pays out $1,000. I wouldn't go and take out a second mortgage for it."
Odds via FanDuel Sportsbook