featured
Five Bold Predictions For Oklahoma State Football in 2022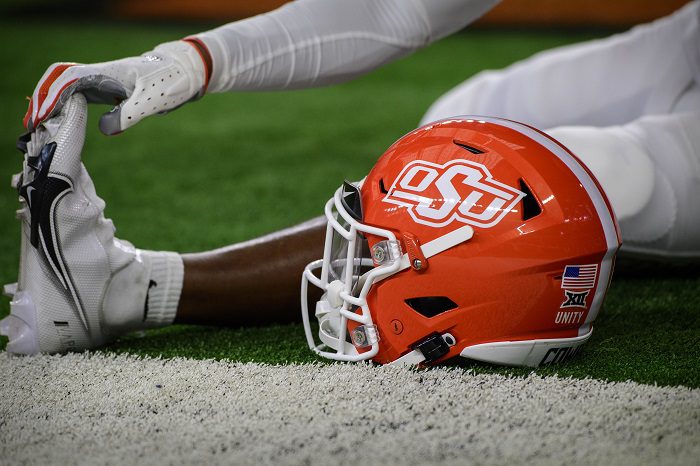 There has been some debate this offseason about where Oklahoma State belongs in regards to preseason rankings.
On one hand, you have a team that finished runner-up for the Big 12 and capped off an impressive 12-2 season as Fiesta Bowl champs. On the other hand, you have a squad that lost the top two tacklers, top receiver and top rusher from the previous year. Not to mention one of the top coordinators in the country jumping ship to Ohio State and taking one of the most experienced remaining defenders on the team with him.
No one seems to agree on where to place the Cowboys going into the 2022-2023 season. ESPN has OSU at No. 11 in its way-too-early poll, while Athlon Sports puts them at No. 17. Meanwhile, the Pokes are unranked by Pro Football Focus, just missing the cut according to their experts.
Needless to say, it can't be particularly easy to pinpoint where the Cowboys fit as we get closer to August.
Instead of guessing where OSU will be ranked to start the season, I decided to make some bold predictions in regards to the Pokes' season as a whole. These are milestones that I don't see many people predicting on the national level, but they are just reasonable enough to be realistically attainable and also just bold enough for opposing fans to scoff at. The perfect balance.
OSU reaches as high as No. 5
Whether it be the AP poll or the College Football Playoff rankings, I believe that the Cowboys will make it as high as fifth in the country at some point in the season. If OSU starts the year off as high as No. 11 as ESPN predicts, a string of a couple early wins might be all it takes to accomplish this feat.
Or, similarly to last season when OSU lost at Iowa State midway through the year, the Pokes could afford to suffer an early or mid-season loss and eventually make up ground to reach the five spot.
Spencer Sanders ends year with 3,500+ passing yards and 1,000+ rushing yards
I'm not quite yet on the Spencer Sanders Heisman train like some vocal Cowboy twitter fans are right now, but I do believe that 2022-2023 will be Sanders' best season of his career.
If the Fiesta Bowl against Notre Dame showed us anything it's that Sanders works better when offensive coordinator Kasey Dunn opts for an up-tempo play-calling style that runs at break-neck speed, similar to the Oklahoma State offenses of old. It was arguably Sanders' best game as a Cowboy and it put on display the quarterback's potential coming into this season.
With that in mind, I think Sanders eclipses the 3,500-yard mark in regards to passing or at least comes close to it. His best passing season so far was this past year, where he logged 2,839 yards through 13 games, so I could see this being a challenge. However, I'm much more confident that he will reach 1,000 yards on the ground, as Dunn and Mike Gundy seemed to finally realize Spencer's running threat toward the end of the season, and I think they will go gung-ho with it this season.
Jaden Bray finishes as Biletnikoff finalist
Most of the preseason hype I'm seeing around the receiver's room is around junior Brennan Presley, who comes in with the most experience out of any pass catcher on the team. While I'm a huge fan of Presley and anticipate a big season from him, I believe another wideout will be the breakout receiver for OSU in 2022 and beyond.
True sophomore Jaden Bray showed many flashes of his sky-high potential last season. Whether it was snagging down fifty-fifty balls or showcasing his agility after the catch, Bray forced himself into the starting lineup after coming out of Norman High School as the 141st-ranked wideout in the 2021 recruiting class.
Now, I think he will become the guy for Gundy and Dunn, the next great Oklahoma State receiver, AND a Biletnikoff finalist when it's all said and done. I believe he has the talent and skill to even win the award, but it will ultimately fall on Kasey Dunn and Spencer Sanders to get him the ball at the rate a Biletnikoff-winning receiver needs.
Defense remains best in the Big 12
Fans and pundits outside of Stillwater remark that the Oklahoma State defense will be nowhere near as good as last year's unit, which was widely regarded as the best in the Big 12 and second-best in the country behind national champion Georgia.
While they have valid reasons to believe so, as Jim Knowles left for Columbus, starting defensive backs Tanner McAlister and Jarrick Bernard-Converse hit the transfer portal and five more starters, Malcolm Rodriguez, Devin Harper, Kolby Harvell-Peel, Tre Sterling and Israel Antwine made the leap to the NFL, I believe they are all overlooking what the Cowboys bring back on the defensive side of the ball.
Former Vanderbilt head coach and Auburn DC Derek Mason comes in to fill Knowles' role, and he's not inheriting a group of rejects and leftovers. Collin Oliver, Brock Martin, Brendon Evers and Trace Ford return to man the stacked defensive line unit, and seasoned defensive backs Jason Taylor II, Thomas Harper, Korie Black and Jabbar Muhammad remain fully capable despite losing teammates McAlister and Bernard-Converse.
The only question mark is with the linebacker core. OSU loses the top two tacklers of the year in Rodriguez and Harper, but Derek Mason has a treasure trove of replacements that are more than capable of sliding into the important roles, such as Mason Cobb, Xavier Benson, Lamont Bishop, and Nick Martin.
The Cowboys make it back to Arlington
I believe that Oklahoma State can and will make the Big 12 Championship in consecutive years. Not only are the Pokes good enough to make it on their own right, I just don't see many teams in the conference that stack up with the top three, that being Oklahoma State, Oklahoma and Baylor. 
West Virginia and TCU could be interesting, Kansas State and Iowa State always seem to be competitive and we all know what Texas is (or isn't). The Big 12 just looks to be on another down year when it comes to the outside of the top of the conference.
That being said, as long as Mike Gundy wins the games he's supposed to and pulls out strong wins over OU or Baylor or both, then there's no reason the Cowboys aren't in Jerry's World come championship weekend this December. They have the talent and the coaching to do so, now they need to truly show the country that they indeed have a logo too and make conference championship appearances a regular occurrence for the program.