Baylor Bears
Ranking the New Big 12 Teams by Travel Destinations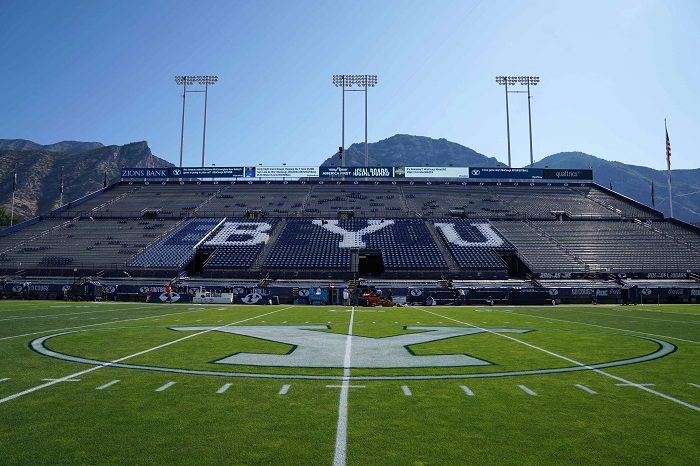 Now that it's official and we know that UCF, Cincinnati and Houston are set to join the Big 12 for the 2023 season, along with BYU, there will be four new destinations for Big 12 fans to check out. And as conference realignment continues to happen in college athletics, the old days of driving a few hours and being at nearly every destination in your conference is a thing of the past. Depending on who you ask, that's a good or bad thing.
But regardless, with four new cities and campuses to check out in the Big 12, I've got ahead and ranked the new travel destinations for Big 12 fans.
1. BYU Cougars: Provo, Utah
Well, one thing many of us living in Big 12 country don't get on a daily basis is mountains. I'll leave you with this view from LaVell Edwards Stadium.
I could stop there and still justify BYU being No. 1 on this list, but when you factor in getting to see and experience a brand new part of the country many probably haven't, there's a ton of reason to put the program atop this list. Provo is located on Utah Lake, is also a reasonable drive up to Salt Lake City. Depending on the time of year, you're a short drive away from skiing to the East, can hike, can tour places like the BYU Museum of Paleontology to the BYU Museum of Art. The options are plentiful and while it may not be an easy trip, something tells me this is one many Big 12 fans will enjoy for years to come.
2. UCF Knights: Orlando, Florida
Talk about weather. Well, UCF may not be an enjoyable trip in September, but if you're an Iowa State or Kansas State fan and you see a road trip to UCF in November, that looks a lot more appealing. Add in a 30-minute trip from Disney World (UCF is on the east side of Orlando, while Disney is on the west side) and you've got a long weekend with the family that includes a football game with your favorite team and a day or two at the Magic Kingdom, Universal Studios, etc. Heck, if you're making it a guys weekend, you've got access to some of the best golfing options in the country, could catch an Orlando Magic game, or even another college football game (Gainesville is a two-hour drive and you could theoretically catch some mediocre SEC football with an 12:00 p.m. kick off before a UCF night game).
3. Cincinnati Bearcats: Cincinnati, Ohio
Of all the new teams in the Big 12, Cincinnati may have the most similar cultural feel for many Big 12 fans. The Midwest feel and culture will be prominent and familiar to many, however it's also a much larger metropolitan area than many Big 12 cities. Cincinnati has pro football and baseball, so depending on the time of year, checking out a new MLB stadium in the Great American Ball Park. The park has panoramas of downtown Cincinnati, Mt. Adams, the Ohio River and Northern Kentucky visible from most of the park. Or, if you are lucky, maybe your NFL team will be playing the Bengals that weekend and you can pair a Big 12 game with an NFL game in the same weekend. Cincinnati is also starting to be known for its craft beer scene, which many Big 12 fans will appreciate. For families, the Cincinnati Zoo and Botanical Gardens is often ranked as one of the best in the country. All in all, this will be a fun trip for Big 12 fans with a comfortable feeling.
4. Houston Cougars: Houston, Texas
Before you Houston fans freak out, there's one big reason that Houston comes in last on the list: It's already a city that many Big 12 fans are familiar with. Several Big 12 schools and fans in Texas remember when Houston was with the league in the Southwest Conference and have not only traveled there for football back in the day, but also possibly already live in Houston, have family in the area and/or travel for business. It's really not a "new" city for many Big 12 fans. The Big 12 also has an affiliation with the Texas Bowl, played at NRG Stadium in Houston, which draws in a mid-tier Big 12 team every season.
Houston is the largest metropolitan area on the list and will offer everything from pro sports to concerts and an incredibly diverse food scene. There's nothing that you won't be able to do in Houston that you want to do, except avoid the humidity. That will be nearly impossible.
Conclusion
That being said, I am going to be new to many of these cities when I visit the campuses for the first time when they join the Big 12. If you are a fan of one of these teams and there are things that Big 12 fans need to do when the visit for a road game, please leave them in the comments!