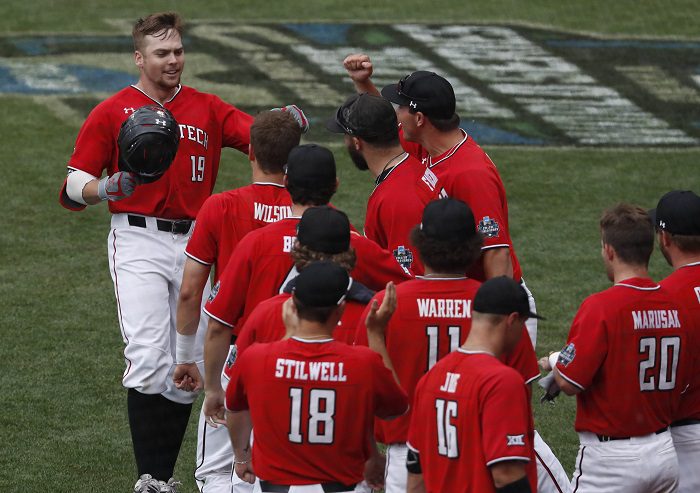 With Jace Jung's groundout with bases loaded in the bottom of the 9th and 2 outs his career at Texas Tech had come to an unfortunate end, without ever making it to Omaha.
It must be said it's tough to see a more painful way to see such a great player season end 3 consecutive times. In 2020 they were top 5 before COVID canceled the season, in 2021 he was phenomenal but the extensive injuries became too much in their Super Regional loss.
Then in 2022 down 2 with a man on and 2 outs in the 8th, Jung hit a ball that would surely be a game-tying home run in 95% of ballparks but turned into just an RBI single. He'd make it 90 feet from being the game-tying run before standout Freshman Owen Washburn couldn't get a go-ahead hit. Making it more painful, the man who has come up so many times for Tech in big situations, Kurt Wilson, was walked in his final game and didn't get the chance to provide that hit. Thus bringing a close to the Jace Jung, and in many ways Jung brothers' era at Texas Tech.
Don't get me wrong Texas Tech baseball is in a great position, a young pitching staff grew up over the weekend in Statesboro. Hudson White and Owen Washburn, despite a tough weekend, will be key pieces for the next couple years. Tim Tadlock is undoubtedly a great manager, and will have this team back ready next season. But for Jace Jung's great 3 year career in Lubbock to end without a trip to Omaha, shows the brutality of this game, and just how difficult it is to get there.
Jung's performance over the weekend wasn't quite what Tech fans have become accustomed to expect from him. A lot of that could possibly be blamed on a large strike zone all weekend that plagued all four offenses in the regional. As we saw Notre Dame was able to explode twice in Knoxville but was held for the most part in Statesboro. All season Texas Tech relied on their two aces Brandon Birdsell, and Andrew Morris to carry them through Friday and Saturday, then have their bats carry them and hope they could explode on Sunday.
Unfortunately for Texas Tech this season, while their aces held up for the most part it seemed in conference play their bats always found a way to slump on Sundays, they did sweep Kansas State and Oklahoma State. But also blew sweep opportunities on Sunday against Texas, Kansas, West Virginia, and Baylor. Add on to that their painful midweek losses to New Mexico, Abilene Christian, and Grand Canyon twice they went from a regional host hopeful to a 3 seed behind Georgia Southern, and Notre Dame.
The Statesboro regional perfectly encapsulated Tech's season in some ways and made fans who followed them all year scratch their heads at the same time. They would routinely win, say 16-2 on Fridays and Saturdays then allow 12 runs on Sunday and score less than 5 with the same lineups as the first couple of days. Now, there was no allowing 12 runs in a game this regional, heck, they only allowed 6 runs in 4 games which you would've thought they would've run away with the regional with that defensive performance.
However, the Red Raiders' bats slumped. Yes, Stillwell had a solid weekend at the plate, Jung nearly came up with a clutch home run to potentially tie it, and always clutch Kurt Wilson didn't get a hittable pitch and had to settle for a walk, but there was no consistency for Tech, and they couldn't get a hit with men in scoring position. If you want to get a summary of how the regional went for the Red Raiders watch the first inning in game 1, they had bases loaded one out, and scored none, they wouldn't get a run across until the 8th inning, nearly 10 hours later.
In the end, Texas Tech's pitching staff played out of their minds and grew up in a big way in Statesboro which will benefit Tech in future seasons. While few offensive players had horrible weekends, it was inconsistent, well below their average, and just not enough to win a regional, especially on the road. But the pain of having a player of Jace Jung's level never reach Omaha after making it the two seasons prior will certainly hurt.
It was a unique three years of exits, while 2020 was COVID, and uncontrollable, 2021 was a massive amount of injuries, you came into this season feeling this was the year they would finally get over the line. But inconsistency plagued them all year, and in the end, it looked like Jung made the play to keep the season alive only to be derailed by a very unique wall in right field. It just shows how difficult it is to make Omaha and just how much needs to go right; Texas and Oklahoma fans should enjoy every moment in Omaha the next few weeks.