Big 12 News
Three Big 12 Schools in Top Five of Final NFCA Softball Top 25 Poll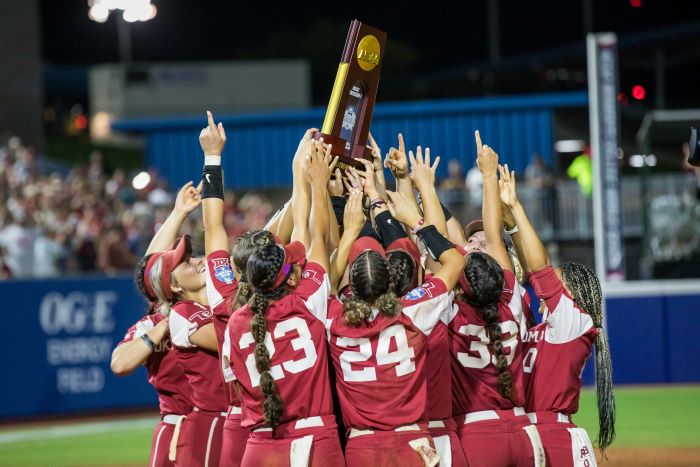 The 2022 NCAA Softball season has come to a close as the Oklahoma Sooners took home their second-straight national championship and their fourth in the last six seasons.
The Sooners dominated the postseason in a way that we've never seen before in the sport, putting up a record 64 runs in just five games in Oklahoma City at the Women's College World Series. In their record-breaking season, Boomer Sooner went wire-to-wire as the No. 1 team in the land in the USA Today/NFCA Top 25 Poll, finishing they year 59-3. OU was voted unanimously as the No. 1 team in all but one poll this season and have remained atop the poll for for 29 consecutive weeks.
Looking back at the season, its not hard to see why the Sooners faired so well in the postseason; their schedule had the best opponents that this season could offer in 2022.
The No. 2 in the final poll? The Texas Longhorns. UT turned their season around after the Big 12 Tournament, fighting through the Seattle Regional and Fayetteville Super Regional to get to Oklahoma City. Then, they took down UCLA, Arizona, and Oklahoma State twice to get to the championship series where they ran into Oklahoma. Overall, the Longhorns went 9-4 in the postseason and ended the season with a record of 47-22-1.
The No. 4 in Softball after the 2022 season was Oklahoma State. The Cowgirls probably should have been in the Championship series against OU, but missed it by just one game after dropping a heartbreaker to Texas in the WCWS semifinals. Undoubtedly the best team in OSU softball history, the 2022 Cowgirls finished the year as Big 12 Tournament Champions, winners of the Stillwater Super Regional and the No. 4 team in the country with a record of 48-14.
Here is a look at the final USA Today/NFCA Top 25 Coaches Poll.
1.) (32) Oklahoma (59-3)
2.) Texas (47-22-1)
3.) UCLA (51-10)
4.) Oklahoma State (48-14)
5.) Florida (49-19)
6.) Northwestern (45-13)
7.) Arizona (39-22)
8.) Oregon State (39-22)
9.) Arkansas (48-11)
10.) Virginia Tech (46-10)
11.) Arizona State (43-11)
12.) Duke (44-11)
13.) Florida State (54-7)
14.) UCF (49-14)
15.) Washington (38-17)
16.) Clemson (42-17)
17.) Alabama (44-13)
18.) Stanford (39-22)
19.) Mississippi State (37-27)
20.) Tennessee (41-18)
21.) Kentucky (37-19)
22.) Georgia (40-16)
23.) Missouri (35-20)
24.) Auburn (40-17)
25.) Oregon (33-19)
Dropped Out: No. 21 Notre Dame, No. 22 LSU, No. 24 Michigan, No. 25 Nebraska
New to Poll: No. 7 Arizona, No. 8 Oregon State, No. 18 Stanford, No. 19 Mississippi State
Others receiving votes: Michigan (24), Notre Dame (14), Nebraska (12), LSU (11), Louisiana (9), San Diego State (7), Ole Miss (4).