featured
Iowa State AD Jamie Pollard on No Divisions in New Big 12: 'I Think That's Where We'll End Up'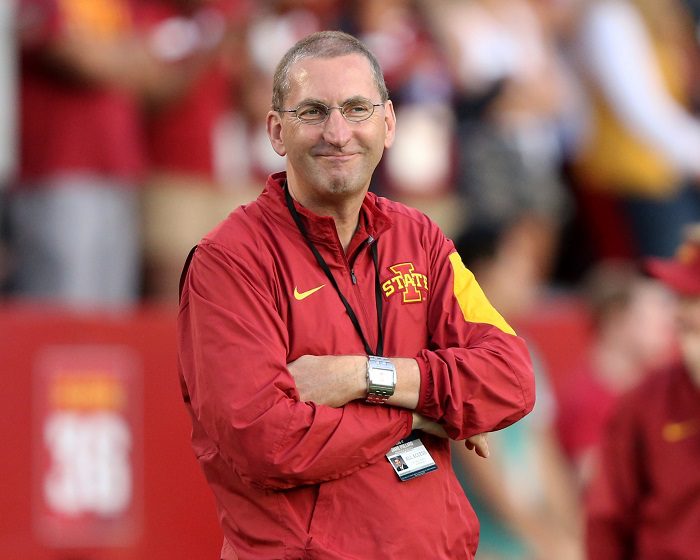 On Tuesday, Iowa State athletic director Jamie Pollard joined the Heartland College Sports podcast to talk about the future of the Big 12, NIL, and the future of the NCAA among other things.
One of the biggest storylines in college football right now is the rule change of requiring divisions in conferences of more than 10 teams. This new rule change allows each league to put their best two teams in the conference championship. There have been some rumors that the Big 12 would go back to divisions, after spending a decade without them.
However, when Pollard was asked if the Big 12 would remain division-less, he seemed fairly confident that is how things will look in the future.
"I think that's where we'll end up, but it will be the collective work of the fourteen (teams)" Pollard said. "Prior to that rule changing, there wasn't going to be an option, you were going to have to be in two divisions. The bottom line is, we have to do what puts our best two teams in the best position to play in the four. For the time period that we have to answer this question, the College Football Playoff will not have expanded, so there's only four slots. So, it would appear just having one division is the best opportunity to have your best two teams meet in the championship game."
While the new Big 12 just over a year from becoming reality, there is another major change coming in the conference much sooner. With current Big 12 Commissioner Bob Bowlsby stepping down the conference is on the hunt and is reportedly aiming to name the next commissioner at Big 12 Media Days next month.
Pollard says that the next person in charge doesn't necessarily need a background in college athletics as long as they are a leader.
"We need a leader," Pollard said. "We need a really strong leader. If that leader has ties to college athletics, that's frosting on the cake, but they don't have to have that. But they need to be a leader. they need to be somebody, that when they're in the room with Greg Sankey, with Jimmy Phillips, with whomever from the television side, that they're perceived as somebody that is a true leader. A visionary. Somebody that's strong and can help lead us through some challenging times in our industry, but also some great opportunities ahead of us.
"I want somebody that's just a true leader. Their background could come from any area. My preference would be that it comes from college sports, but it doesn't have to be."
To hear the rest of the interview with Jamie Pollard click the link below and be sure to give us a rating while you listen.