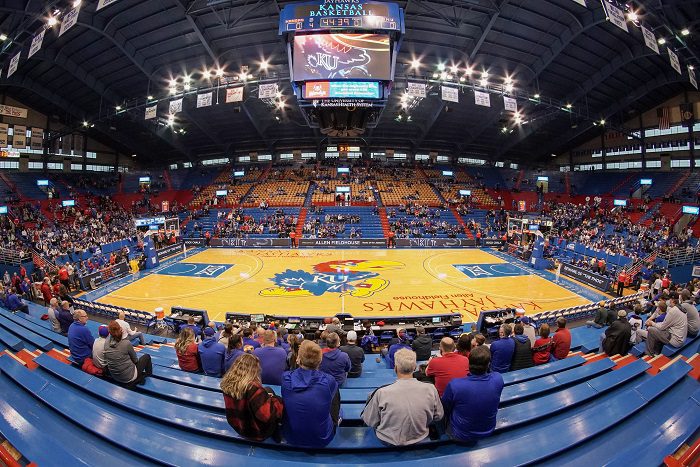 Former Kansas Jayhawk basketball standout Andrew Wiggins went off in Game 5 of the NBA Finals on Monday night. Jayhawks fans likely haven't forgotten about Wiggins, who was the top recruit in head coach Bill Self's 2012 recruiting class. 
Wiggins racked up plenty of awards in his lone year in the Kansas basketball program. All American, Big 12 freshman of the year, Big 12 first team, and he set the Kansas freshman scoring record. Unfortunately, the Jayhawks got knocked out of the tournament earlier than expected that year.
Former Jayhawk, and current NBA superstar, Joel Embiid got hurt at the end of the regular season and the team wasn't able to go in the tournament. Kansas ultimately got upset by the Stanford Cardinal 60-57. They should have still won that game but they didn't. Rumor was Embiid would have been back for the Sweet 16, but that's revisionist history at this point.
All that to say, Wiggins may be the first (between him and Embiid) to win an NBA Championship. Embiid (when healthy) has proven to be an MVP-caliber player. Both were selected to the All-Star team this year but Wiggins showed he has what it takes to be a dominant player on a championship team as well. Wiggins scored 26 points and added 13 rebounds, two assists, and two steals. 
On a night in which Warriors superstar Steph Curry did not hit a 3-pointer for the first time in 233 games, they needed someone to step up. Wiggins did just that and then some in a dominant performance by the former Jayhawk. The Warriors lead the series 3-2 and Game 6 is Thursday night in Boston. If necessary, there could be a Game 7 in San Francisco on Father's Day, which is this Sunday, June 19th. 
That got me thinking, what have been some of the greatest Jayhawks who went on to be great in the NBA? Embiid and Wiggins will likely finish as top five greatest former Jayhawks to have successful NBA careers, but I am going to do a run down of my Top 10 former Jayhawks who made their mark in the NBA who have since retired from playing the game. 
10. Mario Chalmers
Chalmers was blessed to play alongside Dwayne Wade, Lebron James, and Chris Bosh early in his career with the Miami Heat. He had a solid rookie season averaging 10 points and five assists per game while starting every game during his first season in the league. He was a role player who made the most of his opportunities. He ended his nine-year career averaging nine points, four assists, and 1.5 steals per game. Solid role player to start off this list and a hero to Jayhawk nation. 
9. Drew Gooden
He was a journeyman during his NBA career but put up solid numbers, averaging 11 points and 7 rebounds per game. He will always be remembered for his time in Lawrence but he made his mark as a professional as well.
8. Raef LaFrentz
LaFrentz had a brilliant college career, joining the rare 2,000 points and 1,000 rebounds club. We all remember the glory days of the mid-90's. The greatest team in Jayhawk history to not win a national championship. LaFrentz was part of that team but he ended up going on to have a nice career in the NBA. He averaged 11 points and 6 rebounds throughout his career. He also led the NBA in blocked shots during the 2001-2002 season. 
7. Kirk Heinrich
He left his mark on the Jayhawks program, leading the team to two Final Four appearances. He was a consistent shooting guard in the NBA, averaging 12.5 points per game, 5.5 assists per game, and 1.5 steals per game. He also earned NBA all-defense honors during his career, a majority of which was spent with the Chicago Bulls. 
6. Bill Bridges
He played in the '60s and '70s, so obviously as someone born in the '80s, I'm not super familiar with Mr. Bridges' body of work. However, I do enjoy history and research and he stood out as a former Jayhawk who had a nice career in the NBA. Over his 13-year career, he averaged 12 points and 13 rebounds per game as well as being a 3-time All-Star. He also won an NBA title in the final year of his career. Very worthy of being right in the middle of this list. 
5. Danny Manning
A Jayhawk for life, Manning and the miracles, this man needs no introduction. He averaged 18 points and six rebounds per game during his first five seasons in the league with the Clippers. As he moved on to new teams and his career came to a close, he became more of a role player. He finished his career averaging a respectable 14 points and five rebounds per game. He'll always be one of the top remembered Jayhawks ever.
4. JoJo White
Another player who predates me, JoJo White is regarded as one of the best point guards to ever play in Lawrence. His NBA career took off as well. He went to seven straight All-Star games, won two NBA championships including an NBA Finals MVP, and averaged 17 points, 5 assists, and 4 rebounds per game. Incredible career. 
3. Clyde Lovellette
The former first-team All-American and 1952 National Champion Jayhawk took the NBA by storm. He helped revolutionize the way big men played in the NBA, utilizing his strength on the inside while routinely hitting shots from the outside. He averaged 17 points and 9.5 rebounds per game during his NBA career. He also won three NBA titles while making four All-Star appearances along the way. 
2. Paul Pierce
Another member of the greatest team to never win a National Title at KU from the mid-90s… Pierce became the most dominant modern Jayhawk in the NBA (before the arrival of Embiid). Over his 14-season career, he made 10 All-Star teams, appeared in the postseason nine times, won an NBA Finals MVP, and averaged 22 points six rebounds and four assists per game with the Boston Celtics, where he spent most of his career. He also set Celtics franchise records for most three-point field goals made and most free throws made. In a storied franchise like the Celtics, that is a very impressive feat. Paul Pierce became a first-ballot NBA Hall of Famer in 2021. 
1. Wilt Chamberlain
This is the obvious choice for No. 1. Mr. 100-point game averaged an incomprehensible 50 points and 26 rebounds during that 1960-1961 season. For his career that spanned 14 seasons, he averaged 30 points, 23 rebounds, and 4 assists per game. He was one of the most dominant NBA players of all time. During his 14-year NBA career, he won seven scoring titles, 11 rebounding champion titles, seven first-team All-NBA, and 13 NBA All-Star game appearances. Another random Wilt Chamberlain fact: he never fouled out in over 1,200 career games! 
Will Wiggins be able to add an NBA Finals MVP to his list of accolades? Tune in Thursday night to Game 6 of the NBA Finals to find out as former Jayhawks continue to have success at the highest level in the sport.