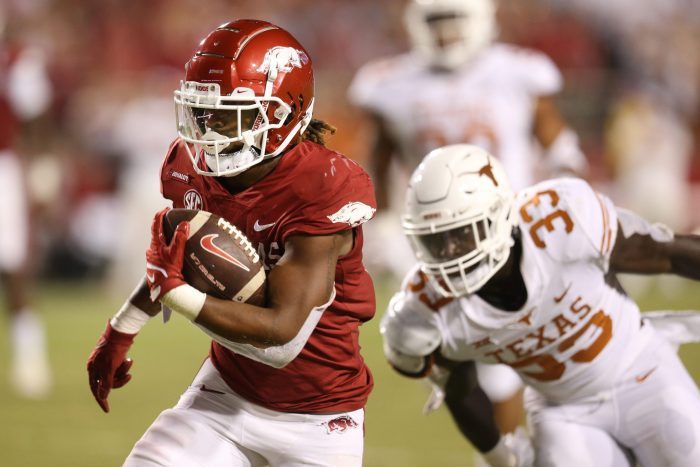 In Week 3 of the 2021 college football season, the No. 21 Arkansas Razorbacks played host to the Texas Longhorns in Fayetteville and took them out behind the woodshed to a tune of 40-21, leading 33-7 going into the fourth quarter.
That Arkansas team went on to go 9-4 in head coach Sam Pittman's second year, and looks to be a good ball team yet again in 2022. Meanwhile, the Longhorns, who are heading into Year Two under Steve Sarkisian, are hoping for a similar turnaround as they mustered just a 5-7 record and missed a bowl game.
The Arkansas v. Texas rivalry might be something that young college football fans might not know about, but the teams have played nearly 80 times dating back to 1894. For a 59 year span, between 1932 and 1991 the two schools were a part of the Southwestern Conference and met each other annually in a heated rivalry.
Now, with the Longhorns ready to jump to the SEC sometime between now and 2025, it appears that the rivalry might be rekindled to its former glory, and Sam Pittman sure hopes that it does.
"Personally, I love the rivalry games and would hate, once Texas gets into the league, not to play them every year, for the fans and everybody else," Pittman told ESPN's Chris Low. "I'm not calling out Texas. Texas has a great program, and I have high respect for them. I'm just saying for the fans, and obviously for the team, because we've got a lot of Texas kids on our team, I think it would be a neat home-and-home each year."
The talk surrounding the look of the 16-team SEC has centered around "pods" which would resemble one of the conferences in the NFL. Four teams in each pod, who would play each other each year (just once per season in college football) and then a rolling schedule of the other opponents.
The most likely scenario is that Texas and Arkansas are joined by Texas A&M and Oklahoma to form a pod, and all I want to know is where I can sign to make that happen. Three rivalry games every year against geographically close opponents. I'm all for that.