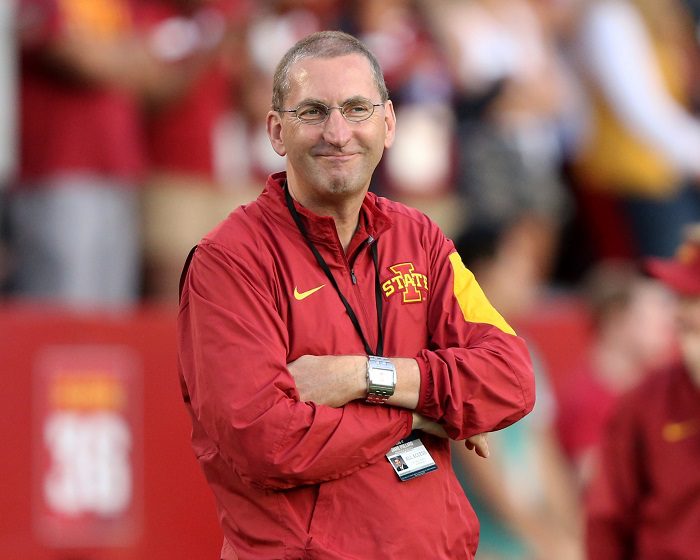 Last December, Iowa State athletic director Jamie Pollard revealed that he was battling testicular cancer in a heartfelt letter to Cyclone Nation that took everyone by surprise.
"About four weeks ago, I started to feel pain in my groin after a running workout. After several days of irritation, I identified a lump on my right testicle. After seeing a doctor for an ultrasound, it was determined that surgery was necessary. I had that testicle removed last Tuesday afternoon and, unfortunately, learned a day later it was cancerous. That was sobering news to hear the day before Thanksgiving."
"We also discussed next options, which include doing nothing other than monitoring my blood work and performing CT scans every 3-6 months, undergoing chemotherapy, or beginning radiation treatments. We visit an oncologist this Friday to learn more about my treatment options."
A battle with cancer is an extremely taxing on the mind and body, but Pollard has remained one of the most outspoken AD's in the country throughout his battle. Just a couple of weeks ago, Pollard spoke out about the NCAA and it being time for "radical change" to take place.
On Thursday, Pollard went to Twitter to share his feelings again, except this time he was just sharing some good news.
What a birthday gift for his wife it must've been to get the good news of consecutive successful scans. Now, Pollard has graduated to six month intervals on his scans and can enjoy life just a bit more knowing that things are heading in the right direction.
If you missed it, we had Pollard on the Heartland College Sports weekly podcast this week where he discussed the future of the Big 12, NIL and the future of the NCAA among other things.