featured
Ranking New Big 12 Teams Ready to Win Conference Titles in Football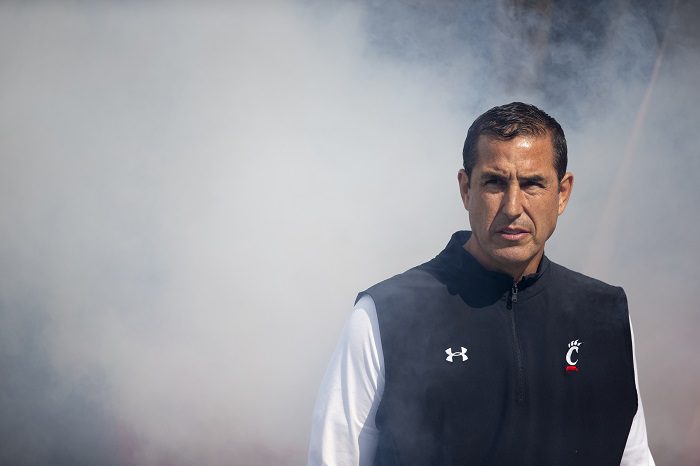 Around 54 weeks from now, the Big 12 will have four new members to share its space with as BYU, Cincinnati, Houston, and Central Florida will all join the conference in the wake of another round of conference realignment.
That wake was caused by the news of Oklahoma and Texas departing the conference for the SEC, a move that shook college football to its very core.
Now, as the conference does its best tp pick up the pieces, we look ahead to what the new-look Big 12 will be like in the near future as we size up how the new teams will fit into the conference hierarchy.
Today, we will look at each of the new teams and rank them in readiness to win a Big 12 Championship in football if they were to join the conference today and Oklahoma and Texas were to exit right away.
This was an extremely hard list to put together, as all four teams won at least nine games last season and look to be good again in 2022. In reality, each team on the list is capable of being in the Top 25 in 2022, so there was a bit of hair-splitting going on here.
Here we go.
1. Cincinnati Bearcats
Listen, I am aware that the Bearcats lost a lot from last years' team, but lets look at this team over the last five years. Since Luke Fickell took over in 2017, Cinci has gone 48-15. Since his first season, which he went 4-8 in, Fickell's squads have gone 11-2, 11-3, 9-1, and 13-1 for a combined record of 44-7. Cincinnati had nine players selected in the 2022 NFL Draft, behind only Georgia (15) and LSU (10) for the most of any school. This team might be down a bit early in the year, but Fickell has proven his team has staying power and will certainly be in the the thick of the Big 12 race right away.
4. UCF Knights
Gus Malzahn is heading into Year Two in Orlando and finished his first year on a hot streak, winning six of their last seven, including a win over Florida in the Gasparilla Bowl. The Knights are set up to compete right away in the Big 12, and here's why. In the last 10 seasons, the Knights have had double-digit wins five times, with last year's squad not included as the only won nine games. Here's the kicker: The Knights won 12 games or more three of those times, under three different coaches. George O'Leary's 2013 squad went 12-1, Scott Frost went 13-0 in 2017, and Josh Heupel's 2018 group with 12-1 as well. This program has found consistency, and that is huge, especially when they're making the Power Five jump.
3. Houston Cougars
I know Houston fans, you guys think we are just dragging you through the mud with having you third here, but hear me out on this. Sure, UH went 12-2 last season, but their best win was over a 6-7 Auburn team and they played one Big 12 team last season and lost badly in Week 1 to Texas Tech by a score of 38-21. I believe that Houston improved drastically after that game, but it still a data point that is hard to ignore. Still, the Cougars are ready to compete in the Big 12 today and would be in the top half of the league this year had they joined and Oklahoma and Texas left.
2. BYU Cougars
Kilani Sitake has slowly become one of my favorite coaches in college football and I am extremely excited to see him in the Big 12 next year. In their last two seasons, BYU has gone 21-4 and most recently had a 10-3 campaign that saw them 5-0 against the Pac-12, including a 26-17 win over Pac-12 champion Utah. QB Jaren Hall is prepared to be a star in his second year as the started for the Cougs, and he will likely be one of the best quarterbacks in the conference when they join the Big 12. BYU, like the teams ahead of it, is ready to be in the conversation for the Big 12 crown right away.