Big 12 News
Pac-12 Commissioner: NCAA Shouldn't Run College Football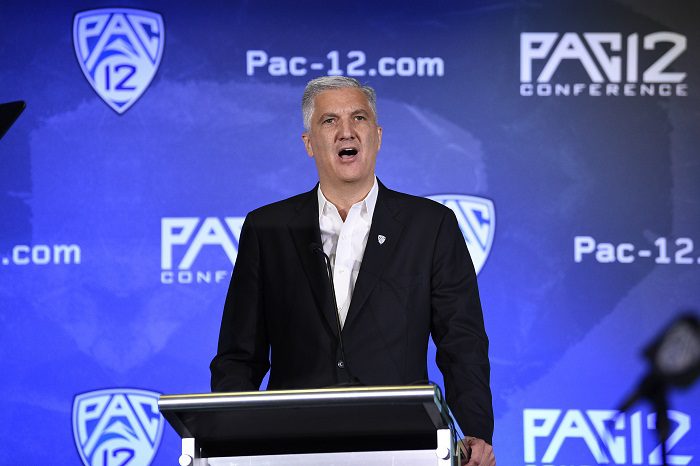 Pac-12 Commissioner George Kliavkoff is the latest name in college football to openly talk about the idea of FBS running major college football instead of the NCAA.
Kliavkoff told The Athetic's Nicole Auerbach in an exclusive interview that he's had discussions with several commissioners of FBS conferences and says there is support for the concept of more autonomy in major college football.
"I've had conversations with several of the FBS commissioners, and I've been surprised by the unanimous support for the idea among the folks that I've spoken to about taking football rule-making and football rule enforcement out of the NCAA and investing it in an organization that is run by the 10 (FBS) conferences," Kliavkoff told Auerbach.
The Big 12 Conference is, of course, undergoing serious change. Texas and Oklahoma will leave the conference no later than after the 2024-25 athletic year for the SEC. Commissioner Bob Bowlsby admitted earlier this month that "you don't just move on" from those two schools. The Big 12 says it is on track to name Bowlsby's replacement by mid-July. Bowlsby announced he would retire after his successor is named.
Plus, UCF, Cincinnati and Houston reached a buyout deal with the American Athletic Conference that allows the three schools to join BYU in joining the Big 12 next July.
Kliavkoff is articulating something that other FBS athletic directors and commissioners have said earlier this year.
Ohio State's athletic director, Gene Smith, has floated the idea. So has ACC commissioner Jim Phillips, who said last month that it's time to look at "alternative models" for football.
Phillips could be one to drive that conversation, as he's part of the Division I Transformation Committee, which is reportedly charting a new course for college sports.
Part of that 'course' could be the FBS conferences having more autonomy over the particulars of their sport, if Kliavkoff is right.
"The way I think about it is: Control of everything related to college football with the exception of the media rights during the regular season would vest in one organization — setting the rules, enforcing the rules and running the postseason," Kliavkoff said.
Matthew Postins can be found on Twitter @PostinsPostcard