Big 12 News
Former Texas QB Casey Thompson on Nebraska: 'I Feel Like I'm at Home Now'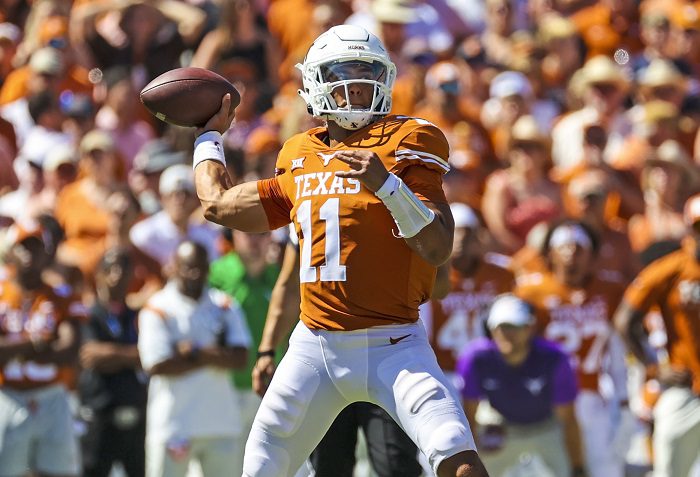 As Nebraska continues to unravel their quarterback position, expectations are that Texas transfer Casey Thompson will be the guy going into the start of the season.
Thompson continues to rehab a thumb injury that he suffered against Oklahoma more than eight months ago, keeping him from getting into a routine of throwing daily. He told the Omaha World-Herald his recovery is doing, "good", and hasn't gotten in the way of his weightlifting and other physical conditioning. Both Nebraska and Thompson are taking their precautions, keeping the quarterback from overexerting himself since spring ball ended on April 9th. As the season continues to creep closer, Thompson said, "I like to throw the ball four, five, six times a week. I'll get back to throwing basically everyday of the week."
Casey Thompson arrived in Lincoln back in January, and although it wasn't easy adjusting to the new schedule, terminology, and getting to know his new teammates and coaches, he has found a rhythm this offseason. His days have consisted of 10-12 hours of studying and learning the plays, so he can go out and perform at the highest level. To help with the change of scenery, Thompson has teammate Marcus Washington, who played with him at Texas, and has been working with the receiver to download the playbook and translate language from what Washington knew in Austin to what Nebraska does. Thompson has also been setting up gatherings with skill players to help with chemistry and build relationships.
Thompson has hit film study hard, trying to perfect his craft. "Whenever I sit down with Coach Frost and Coach Whipple, I want to be able to know the offense like they know it," the quarterback stated. "I don't like to sit down and feel like I'm the student and they're the teacher. I kind of like to sit down and say 'We both could teach this if we had to.'"
Nebraska opens their season in Ireland on August 27th, against Northwestern, and Thompson is driven to know every single play coaches might install and every defense and blitz that an opponent might run. Casey feels that if the season started today, he'd have the tools to lead the Nebraska' offense out of the huddle. "As long as I know the plays and I get the look that I want, then I can have the success at a high level," Thompson says. "I feel good about where I'm at but I know I'm not where I need to be."
With that being said, Thompson has found his niche, saying, "I feel very comfortable and I feel like I'm at home now. I'm at peace."