Oklahoma Sooners
Four Thoughts on Oklahoma's 6-2 Win Over Notre Dame in the College World Series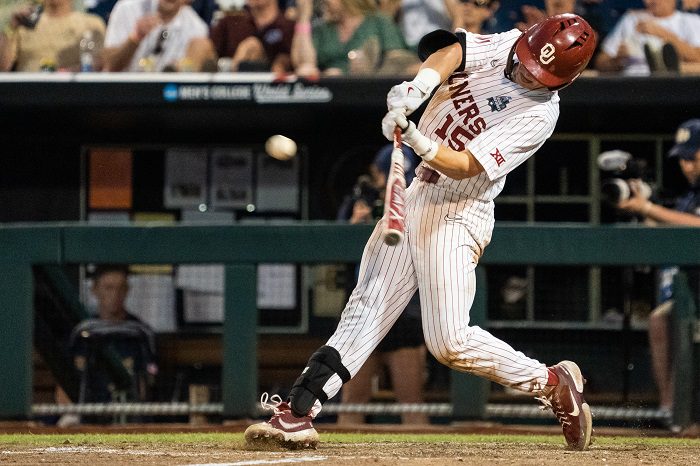 The college baseball postseason started with 64 teams playing for a chance to win it all. Last week, the field was cut down to 16 in the Super Regionals and now, the journey is complete as eight teams will make the trip to Omaha. The Oklahoma Sooners faced Texas A&M in game one and won with ease. On Sunday, they took on Notre Dame who beat Texas on Friday. Here are my four thoughts on Oklahoma's victory over Notre Dame.
1. Cade Horton Was Awesome
Coming into the 2022 season, I didn't know who Cade Horton was. He missed the entire 2021 season due to injury and didn't start playing again until the month of April. Cade pitched a few innings, but he certainly had his ups and downs this season. However, when the Big 12 tournament came around, he started against Texas in the championship and was a hero. Ever since that moment, Cade has been one of Oklahoma's key starters on the mound. He continued his hot streak on Sunday as he shut down a veteran Notre Dame team. Cade pitched six full innings, struck out 11 batters, and allowed just two runs. We all knew that Jake Bennett was going to be the ace of this Oklahoma pitching staff but Cade Horton is a solid number two guy who could be a number one pitcher for quite a few teams.
2. The Bats Stayed Hot
It seems like every single game this postseason, the Sooners have been able to get an early lead and they did that once again on Sunday. Oklahoma scored two runs in the third inning as Tanner Tredaway and Wallace Clark drove in a pair of runs. Then it was Jack Nicklaus who had a big RBI and of course Tanner Tredaway got another RBI later in the game. Even when Blake Robertson and Jimmy Crooks didn't have their best day, they were still able to rely on guys like Tanner Tredaway and Peyton Graham to get the job done. This team is extremely fun to watch, and I love how aggressive they are at the plate and when they are running the bases. So far, it has certainly paid off for this team.
3. Blake Robertson's Catch Was Amazing
During the college baseball season, you are able to see a ton of amazing plays on the diamond. From outfielders making diving catches to shortstops making great throws while falling down. But when you are in the College World Series, those type of plays are ones that stick with you for a long time. I have seen some outstanding plays that have been made so far in Omaha, but this catch by Blake Robertson will likely be the best catch you see this year.
4. One Win Away
How about this Oklahoma team? They were picked to finish sixth in the Big 12 Conference and not only are they in Omaha, but they are just one win away from being in the finals. What a season this team has had, and they aren't done yet. I believe this team can win it all.