Big 12 News
Oklahoma, Texas Confirmed to Meet Annually in SEC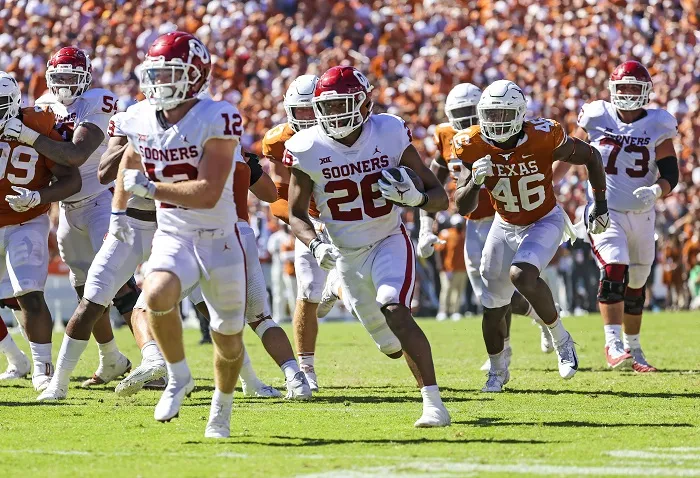 For 365 days a year, there is a mutual disdain between those in the south that wear burnt orange or crimson and cream. Bragging rights are on the line on the second Saturday in October at the Texas State fair every year, and that tradition doesn't seem to be going anywhere
The Red River rivalry will continue as Oklahoma and Texas move into the SEC, regardless of what the new conference's schedule might look like.
According to Oklahoma athletic director Joe Castiglione, the Longhorns and Sooners will play each other annually in the Cotton Bowl, no matter what.
"Regardless of the format of eight or nine conference-game schedules, we will always play Texas," Castiglione told the American-Statesman. "If the SEC sticks with its current model of just eight league games, the format will be one permanent rival (OU-Texas) and seven rotating teams."
Texas athletic director Chris Del Conte also told the American-Statesman that the rivalry would live on, adding that a big reason for joining the SEC was to bring back some old rivalries.
"We wanted to rekindle old rivalries," Del Conte said. "Whether it's Arkansas or A&M or Oklahoma. Those matter to all of us. Fans cherish those games. It's important for us to play Oklahoma in Dallas at the State Fair. That's what makes college athletics so great generation after generation."
The Lone Star Showdown, the moniker given to the Texas-Texas A&M football game, could also become an annual meeting once again, as long as the SEC's new scheduling formula allows for it.
"I wasn't a part of it (Texas vs. Texas A&M rivalry), but I grew up watching it on Thanksgiving," Del Conte said. "It was ingrained in both fan bases' psyches for hundreds of years. To me, OU not playing Nebraska is crazy. For us to go to the SEC with a chance to play Arkansas and A&M and continue our rivalry with OU is icing on the cake."
"It just depends on the format," Castiglione said of the Longhorns and Aggies renewing an annual rivalry. "There's some discussion about that, but I don't know if that would be possible. But the Red River rivalry, that will continue. Neither one of us would let anything happen to that. There's not even a question about it."