Big 12 News
ESPN Chairman Reiterates Plans for Texas, Oklahoma to Join SEC in 2025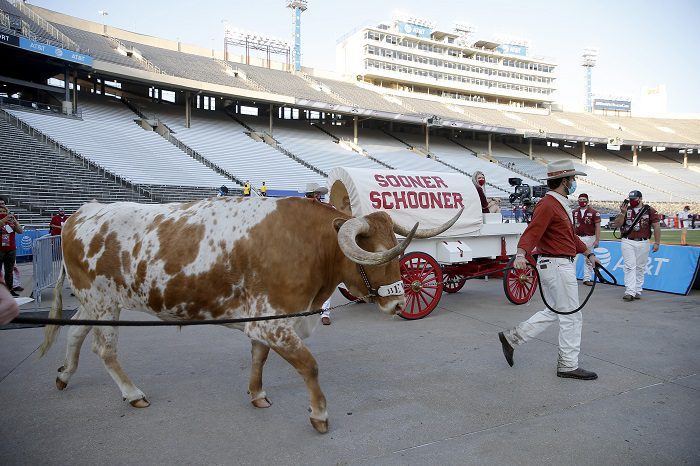 While there remains plenty of speculation as to when Oklahoma and Texas will leave the Big 12 for the SEC, one important voice seems to believe that the two will be waiting until 2025.
ESPN Chairman Jimmy Pitaro said in an interview with The Athletic's Richard Deitsch, on Deitsch's unaffiliated Sports Media Podcast, that ESPN be broadcasting one non-conference game for every SEC team, every year, starting with 14 total games in 2024. That number will then increase to 16 when OU and Texas join one year later.
Pitaro said, "Once Texas and Oklahoma are in, we will have 16 out-of-conference games, one per team. Well, with Texas and Oklahoma it will be in 2025, so in 2024 it will be 14 (games)."
Granted, he could be just playing the game for now. Frankly, I wouldn't trust Jimmy Pitaro as far as I can throw him, and neither should any other Big 12 fan based on their shenanigans from last summer as the Big 12 was floundering.
But if Pitaro is right on this one (or just telling the truth), that means three more football seasons with Oklahoma and Texas in the Big 12, and it means the Big 12 will have 14 teams in 2023 and 2024.
That's because we know for certain that UCF, BYU, Cincinnati and Houston will officially be joining the Big 12 for the 2023 college football season.
Pitaro also talked to Deitsch about the other conferences, specifically negotiations with the Big Ten, saying, "We have a great relationship with the Big Ten. They are certainly an ascending conference right now and I'm not talking about just football. I have a very good relationship with Kevin (Warren), their commissioner. They have been a big part of ESPN for a long time now. It is no secret here… we are in discussions. Just like every other property, we enter these discussions understanding we can't get everything and we are going to proceed with discipline and thoughtfulness."
He also cited ongoing negotiations with the Pac-12 as well. The Big 12 still has time before their deal comes up in the middle of the decade and it will be interesting to see if the bad blood from last summer means the two sides won't have interest in each other moving forward. There's plenty of time to see what will happen.