Trending Now
Pac-12 Commissioner Says Lincoln Riley to USC is Sign of 'Increased Focus on Football'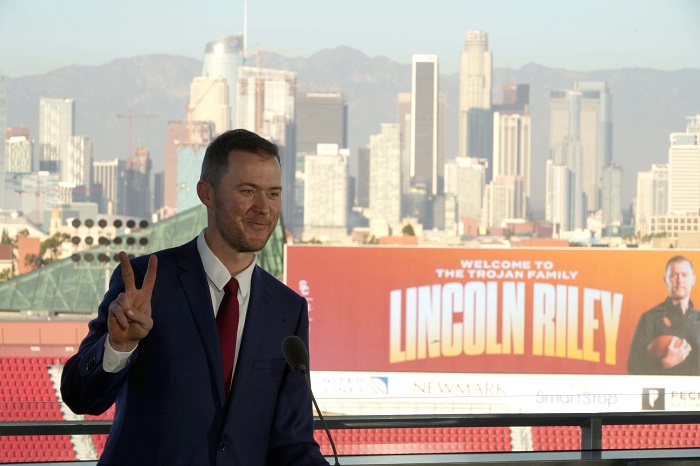 The Pac-12 has been an afterthought in the grand scheme of college football for the better part of the College Football Playoff era and has undoubtedly been the least of the Power Five conferences in that span.
Mark Helfrich's 2014-15 Oregon team and Chris Petersen's 2016 Washington teams are the only teams from the conference to ever represent the Pac-12 in the CFP, and in large part that is because there haven't been many dominant teams on the west coast in the last seven years. Oregon has been close and Utah could be that this season, but to this point it has been hard to find.
Well, as the entire sports world is aware, USC went out and nabbed what many consider the best young coach in the country in Lincoln Riley and look to be a program on the rise. However, the impact of adding Riley could spell more than just USC being on the rise, according to Pac-12 Commissioner George Kliavkoff.
In a recent interview with The Athletic Kliavkoff talked about the teams in his conference investing more into football and the impact that investment will have.
"Lincoln Riley going to USC is one indication of a much broader strategy that I see across all 12 of our schools, which is an increased focus and investment in football," Kliavkoff said. "The investment in football by all of us has had an immediate impact. I see more kids transferring to our schools — well-recognized, high-quality student-athletes.
"I see already and I think we'll see more in the future us being able to hold on and retain the best West Coast graduates who, in the last decade or so, have been going to East Coast or Midwest schools. I see that slowing down and I see us being able to defend our territory with our best kids more so than we have in the past."
Riley isn't the only splash hire made out west either, as the Oregon Ducks went and got Dan Lanning, who was the defensive coordinator at Georgia during the 2021 national championship run. Both Lanning and Riley are impressive recruiters and that will certainly bring more big names their direction, especially in the NIL era of college football.
Pac-12 football has been dormant for a while, but it appears that some big things could be brewing in the near future if you take Kliavkoff at his word that is. I, for one, will just have to wait and see for myself.