featured
Four Things to Look Forward to When Texas and Oklahoma Leave Big 12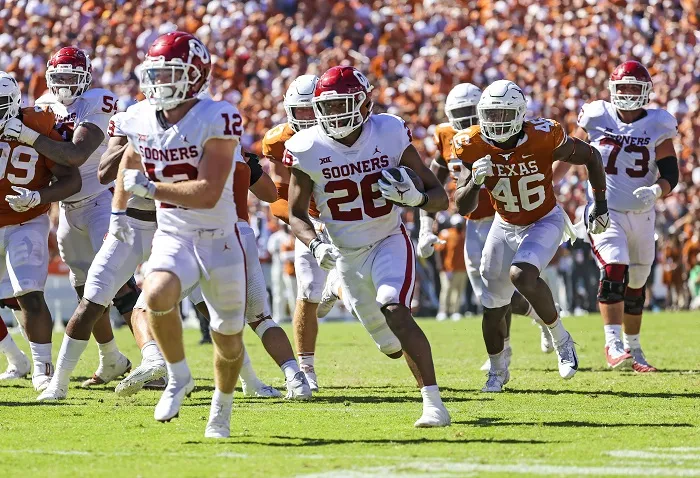 Believe it or not, we are about ten weeks away from the start of the college football season. It felt like just yesterday that I was in Arlington watching the Big 12 championship game.
Despite the countdown to kickoff constantly ticking in my head, all I see is talk about Oklahoma and Texas. While the two blueblood programs are planned to be around until the 2025 season, I still find myself wondering what life will be like without them in the Big 12 Conference.
Here are four things to look forward to when Texas and Oklahoma head off to the SEC.
1. Everyone is Equal
It's no secret who has run the Big 12 Conference over the years. Texas has always made their opinions heard at the table and has been known to use their power to their advantage. That arrogance is what ended up destroying the original Big 12 as Colorado, Nebraska, Missouri, and Texas A&M left the conference. Even when the four new schools came in, nothing changed. Anytime anything happened within the Big 12, the first school mentioned is always Texas. Sure, Oklahoma has always had a seat at the big boy table, but I never felt like they were the ones trying to control everyone and everything. With those two gone, I feel like all schools will be on a level playing field when it comes to important discussions. No matter what school you are, your voice will be heard.
2. Football Season Will Unpredictable
Ever since I have been filling out a preseason Big 12 poll, Oklahoma has been at the top of that list. So far, I have only been wrong once. There's nothing wrong with Oklahoma winning the Big 12 but whenever anyone talks about the Big 12 title game, the questions is always, "Who is Oklahoma playing?" Last season we got a taste of what is was like without Oklahoma playing in the Big 12 championship and guess what? It was just as fun even if they were there. The game was great and both Oklahoma State and Baylor fans packed Jerry World. Without that preseason favorite on the ballot every year, it is going to be a lot tougher to figure out who is going to win the conference each season. That should make for some amazing, unpredictable football and I can't wait.
3. New Faces and New Places
I am sure a lot of you have had the opportunity to travel across Big 12 country. Whether it be to Stillwater, Fort Worth, Manhattan or even Morgantown, most of you reading this have been to a Big 12 road game before. I am not here to knock Norman or Austin but the thought of traveling to some of these new places is exciting. Now you can hit the beach when you go to UCF or check out the mountains in Provo. Maybe get some great seafood down in Houston and get a chance to try some of that world famous Skyline chili. No matter where you go, it should be a wonderful opportunity to visit some places you may not be familiar with.
4. Let's Be Creative
When you hear talking heads talk about the future of college football, nobody ever brings up the Big 12. They want to talk about the SEC being the best thing since sliced bread or the Big Ten's money. Even the lowly Pac-12 gets talked about more than the Big 12. I get that the conference will miss Texas and Oklahoma just because of the value they bring to the conference but why not have some fun? The Big 12 should embrace the idea of thinking outside the box. When it comes to social media, events, or anything in-between, the conference needs to track the latest trends and help pave the way for the future.
We all know that those TV deals are looming around the corner and of course the Big 12 isn't going to have the value it once did. However, times have changed. Amazon and Apple have enough money to buy whatever they want and if they show interest in airing Big 12 football then why not go for it? If the Big 12 can get major dollars from anyone, they should be chomping at the bit to get it. Wherever the money is, the Big 12 should follow.