Oklahoma Sooners
Four Thoughts on Oklahoma's 4-2 Loss To Ole Miss in College World Series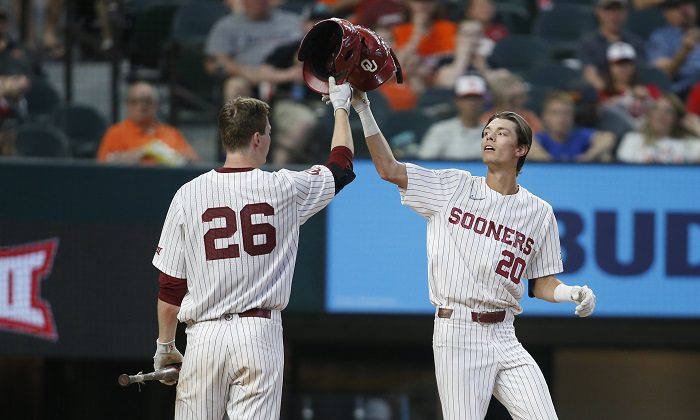 The college baseball postseason started with 64 teams playing for a chance to win it all. Then the field was cut down to 16 in the Super Regionals and last week eight teams made the trip to Omaha.
Now we are down to the final two teams as Oklahoma and Ole Miss will play a best two out of three series to crown a national champion. Ole Miss took game one on Saturday with an easy 10-3 win and then took game two with a 4-2 win to become the 2022 national champion. Here are my four thoughts on Sunday's game.
1. Cade Horton Was Phenomenal
I said it last week and I will say it again. I wasn't familiar with Cade Horton coming into the 2022 season and he missed the entire 2021 season due to injury. He didn't start pitching again until April and by the time the Big 12 tournament came around, everyone knew who he was after his dominant performance against Texas. Last week he shut down a good Notre Dame team as he struck out 11 batters. This time he outdid himself as he struck out 13 batters in almost eight full innings. Cade allowed just two runs during his time on the mound, and he certainly played a huge role in this game. Hats off to him and I cant wait to see him in the big leagues.
2. The Run Should Have Counted
There are plenty of odd rules in the game of baseball, but I absolutely hated one particular rule in the sixth inning of this game. In a tie game, Oklahoma had runners on the corners with just one out. John Spikerman bunted, and Jackson Nicklaus scored. Spikerman ended up getting on first base due to a wild throw but was then called out after a review due to interference. To me, it was certainly a questionable call and even if the interference was the right call, the runner should be out at first, but the run should still count since it had no impact on the actual play. Of course, they made Jackson Nicklaus go back to third and just one batter later, Peyton Graham ended up flying out. That rule cost the Sooners a run and it is a very dumb rule in my opinion.
3. The Eighth Inning Meltdown
I am not really sure what else to call it, but this Oklahoma team just collapsed in the eighth inning. After Cade Horton left, Trevin Michael got the ball and things went south from there. Two wild pitches helped Ole Miss get two runs on the board and helped them get a 4-2 lead going into the ninth inning. It was tough to see Oklahoma make those mistakes and it ended up costing them the game.
4. What a Run
No matter the outcome, this Oklahoma team deserves some praise. They were picked to finish sixth in the Big 12 Conference and all they did was prove everyone wrong. They got hot in the month of April winning five straight conference series and then went on to win the Big 12 tournament. After that, they knocked off Florida and Virginia Tech on the road to get to Omaha. That alone was a huge accomplishment but then they just kept on winning as they won their first three College World Series games to get to the finals. Give credit to Ole Miss because they had one heck of a run, but this Oklahoma team was great too. Skip Johnson deserves a ton of credit for the job he did with this team and needs a raise. Oklahoma, congratulations on a great season.