Big 12 News
Texas 2023 Recruiting Class Ranking Skyrockets After Massive Weekend Haul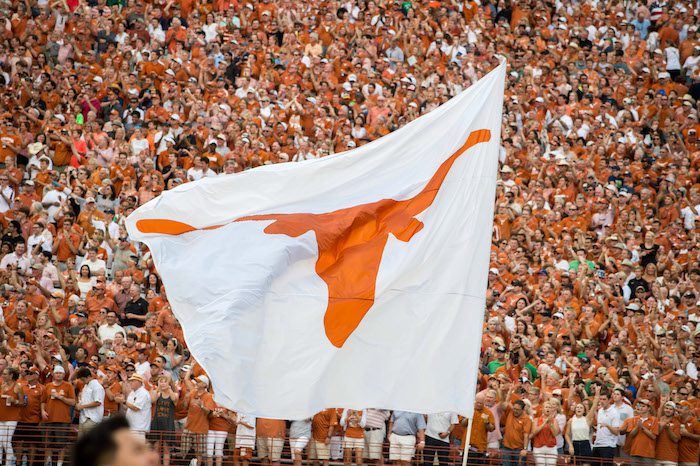 Texas picked up perhaps its most influential commitment of the decade in Arch Manning last Friday, pointing to the hopes of a brighter future for Longhorns football and an immediate tool to land more top-tier talent for Steve Sarkisian.
It appears that it didn't take long for the Horns to capitalize on that new tool as it was a busy recruiting weekend in Austin as they picked up six commitments, including a whopping five pledges on Sunday.
Three of the six players received a four-star rating by 247Sports, with the other three players being rated as three-stars.
Prior to Arch Manning's commitment, the Longhorns were floating around No. 40 in the 2023 recruiting class rankings, but after a massive weekend, they now sit at No. 5 nationally.
Here are the names that joined Manning to make the difference, and certainly make a wave in the recruiting landscape of college football.
The top player to commit over the weekend was Jaydon Chatman, a 6-4, 300 pound interior lineman out of Harker Heights, Texas. Chatman is currently rated as the No. 9 interior offensive lineman and the 34th ranked player in Texas for the class of 2023.
Next is four-star wide receiver Jonah Wilson, who is listed as the nation's No. 34 wide receiver and the No. 47 player out of Dekaney High School in Houston, Texas.
Listed at 6-3, 195 pounds, Wilson is a prototype at his position and is clearly the type of receiving threat you would like to pair with Manning in 2023.
Liona Lefau is next up, rated as a four-star linebacker and the No. 1 player in his state out of Kahuku Hawaii. The 6-1, 210 pound linebacker was a huge land for the Longhorns, as they not only get a promising prospect, but also take one of their archrivals biggest targets as Oklahoma was in the running for Lefau as well.
The highest-rated three-star commitment of the weekend was Connor Stroh out of Wakeland High School in Frisco, Texas. Listed at 6-7, 345 pounds, Stroh has elite size and possesses the frame to become a towering offensive tackle for the Longhorns going forward. Stroh is the No. 43 OT in the country and the No. 83 player in Texas for 2023.
Coincidentally, the next player on this list has the exact same rating coming out of high school as Stroh, at a 0.8794 composite score. Three-star OT Trevor Goosby is also an offensive tackle and is ranked identically as the No. 43 OT in the country and the No. 83 player in Texas for 2023. Goosby has a bit lighter frame at 6-6, 280 pounds, but is a promising piece out of Melissa, Texas.
Andre Cojoe is the final piece of the Longhorns' big weekend, an interior offensive lineman out of Mansfield Timberview in Arlington, Texas. At 6-6, 330 pounds Cojoe possesses college-ready size like the other offensive lineman in his recruiting class and looks to be a promising piece of UT's build going into the SEC in a few years.