Trending Now
Bob Bowlsby Compares His Retirement to Being an Escapee in Shawshank Redemption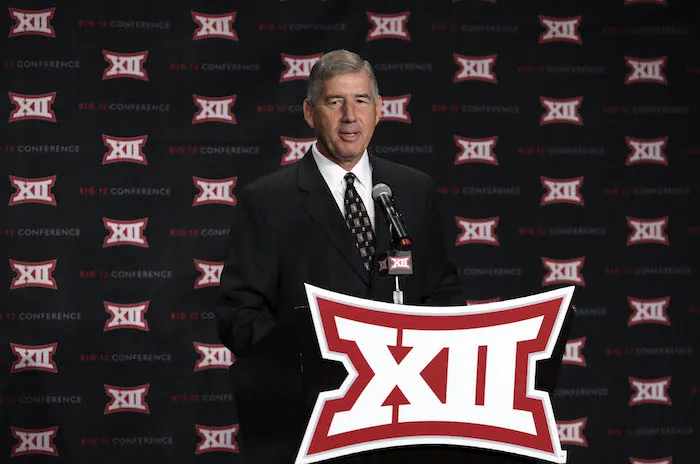 On Wednesday the news broke that Brett Yormark has officially been named the new commissioner for the Big 12 Conference, establishing the curtain call for Bob Bowlsby under the same title.
Bowlsby has been around to see the Big 12 through several monumental shifts in college athletics, such as the first phase of Big 12 realignment, the introduction of Name, Image, and Likeness (NIL), and the second phase of realignment that will see Oklahoma and Texas leave the conference and BYU, Cincinnati, Houston, and UCF join it.
All of those events led to major changes within the conference, and no doubt took a toll on the man responsible for seeing this conference through to the end.
Now, his post will be taken by another man, allowing Bowlsby to finally breathe a sigh of relief, or in his own words, enjoy the fresh air of freedom.
"I feel a little like an escapee," Bowlsby told CBS Sports, due to retire this year after more than 40 years in athletic administration. "You think of it in 'Shawshank Redemption' terms. I'm out of the 500-yard sewer. I'm in the rainwater, but I don't have my dirty clothes off yet."
In an everchanging world, it almost certainly has to feel like commissioners are held captive by the roles they are burdened with. Whether it is College Football Playoff expansion or just keeping the conference from going under no matter how hard some might try, being the commissioner of a Power Five conference has a lot of overarching tasks to attend to, and now Bowlsby is free of those chains.
In a press release on Wednesday morning, it was announced that Brett Yormark is expected to start in his new role on August 1, meaning that Bowlsby has to make it one more month as the commissioner, but he clearly feels that he has one foot out the door at this point. Nonetheless, Bob Bowlsby kept this thing together for 10 years and for that we owe him a thank you and well wishes in retirement.