featured
Mike Gundy on NIL: 'College Football is Going to Look Completely Different in Two Years'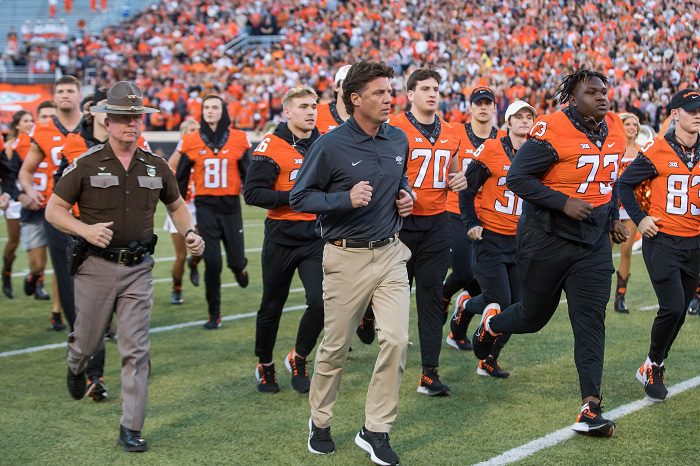 Oklahoma State football is coming off of what could be the best season in its school history; a 12-2 record and a win over Notre Dame in the Fiesta Bowl after coming up about three inches short of a Big 12 Championship against Baylor.
Now, head coach Mike Gundy and the Cowboys are gearing up for another run, and are working to try and secure top talent from around the country to come and write their name in Cowboys' history. However, things are a bit more complicated on the recruiting trail now with the addition of Name, Image, and Likeness (NIL) over the past calendar year.
Now, teams that haven't won anything of importance over the last several years can bring themselves up to the top of the recruiting world with stacks of cash, which is now legal. The Athletic's Max Olsen published a piece on Oklahoma State on Wednesday, and in the piece he shared some of Mike Gundy's thoughts on the new world of recruiting.
"We're adapting and learning on the run," Gundy told The Athletic. "College football is going to look completely different two years from now in my opinion, and maybe quicker than that. People need to quit talking about whether they like it or not. It's here. The genie's out of the bottle. It's over. So for Oklahoma State, the very most important thing we can do is make sure we're taking care of the student-athletes and our players.
"What that's gonna look like over the next six months, I don't know. But we have to keep our culture in place. We are who we are. We're not changing that. We're good at what we do. We'll make sure we're taking care of the student-athletes, make sure we're allowing them the opportunity for NIL and then adapt on the run. Until we get a governing body — if there's gonna be one — and someone gives us direction and tells us what the parameters are, we're all reacting on the run. That's the way I see it. When nobody is in charge, that's what happens. And really, right now, nobody's in charge."
Despite everything going on around him, Gundy is adamant that he is not at all interested in engaging in pay-for-play recruiting battles.
"We're not doing that here," he said. "It's not a sustainable way of life, in my opinion. Maybe there's 10 or 12 schools in the country that can live that way. The other 45 or 50 that are in Power 5 conferences, they can't sustain that type of model."