Big 12 News
Oklahoma's Title-Clinching Win in WCWS Most Watched Softball or Baseball Game of 2022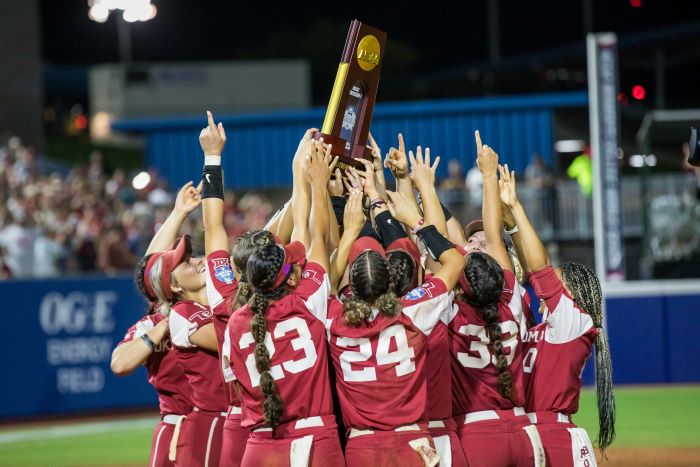 Diamond sports are officially over for the 2022 season, which means that football season is nearly upon us and the new academic year is about to start.
However, before we get to that, there is a bit of interesting news regarding the championship series television ratings.
As it turns out, Game 2 of the Women's College World Series Finals between Oklahoma and Texas was the most watched game of 2022, and not just for softball. No, that game was the most watched for the entire softball and baseball season for 2022, with 1.74 million television viewers.
In comparison the final game of the Men's College World Series, where Ole Miss defeated Oklahoma to win the national title, had a still impressive 1.54 million television viewers.
According ESPN data recorded by Sports Business Journal , the total viewership for both final series was nearly identical as the two women's championship games between Oklahoma and Texas drew 1.58 million viewer, while the two men's games between Oklahoma and Ole Miss drew slightly more at 1.59 million.
In 2021, a record number of viewers tuned in to watch the WCWS, with an average of 1.2 million viewers — almost 60% more than the men's. The continued success of both sports will likely play a factor in the new media rights deal for the NCAA. Its current deal with ESPN, which includes coverage for 29 different championships, is set to expire in 2023-24. The success of softball and baseball will likely lead to revenue increases for the NCAA, which is great news for both sports.