Big 12 News
Texas Lands Commitment from 2023 Five-Star WR Johntay Cook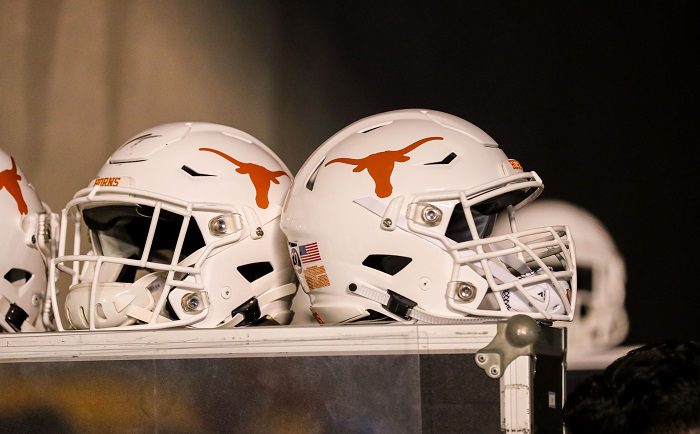 Texas makes it five straight days with a commitment as they added their third five-star recruit of the week, this time by way of DeSoto wide receiver Johntay Cook.
Cook, listed at 6-0, 175 pounds, is one of the premiere pass catching talents in the class of 2023, being ranked as the No. 6 WR in the class, No. 6 player out of Texas, and the No. 36 overall player in the class. He joins QB Arch Manning (No. 1 Overall) and S Derek Williams (No. 38 Overall) as the trio of Top-40 overall players for the Longhorns in the class of 2023 so far.
247Sports Recruting Analyst Chris Singletary sees Cook as a future second to third round pick based off of his resume to this point.
"Very good burst off the ball that provides an immediate advantage on most defensive backs from the snap. Excellent quickness and change of direction. Short-area quickness is an asset when running pivots and in- or out-breaking routes. Nice at sinking his hips and dropping his body weight where he can create separation and accelerate away from the defender.
"Good body control with little wasted movement as a route runner. Hands catcher who plucks the ball out of the air with ease. Ability to track the deep ball and make tough over-the-shoulder catches. Will make the tough catches and compete for the 50/50 balls. Adept to running the route tree from both the slot or outside receiver positions.
"Two-sport athlete who also competes in track and field (long jump, triple jump). Still has some growth left within his skills and overall game. Put up very good numbers as a junior (38-806-19, 21.2 ypc). Production reflects the threat presented any time he is on the field. Quality starter with all-conference potential are goals he can definitely achieve."
Cook held over 40 offers from the top schools in the country, but chose the Longhorns over schools like Oregon, Michigan, Alabama, Oklahoma, Ohio State, USC, and Notre Dame among others.
Back in April, Cook went viral after he pointed out that the vast majority of Texas' trophy display was made up of those won by the Longhorns' swimming team rather than the football team.
It appears that those feeling are long behind him as the talented pass catcher has chosen Texas as his destination for the next three to four years.
After Cook's commitment, the Longhorns now possess the nation's No. 1 Class for 2023 according to Rivals and are just one point behind Ohio State for the same claim on 247Sports.