Big 12 Basketball
Ranking Top Three Non-Conference Matchups For Kansas Basketball in 2022-23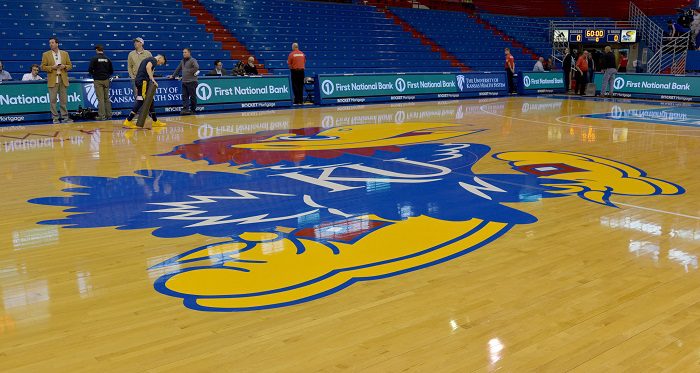 The non-conference schedule for the 2022-2023 Kansas Jayhawks basketball team was released on Tuesday. Some of these matchups have been known for a while, but the dates have been locked in.
The Jayhawks have typically had a pretty tough strength of schedule and this year is no different. Let's take a look at the top three games that fans can look forward to watching in non-conference play.
3. Kansas vs Duke (Champions Classic, Indianapolis Indiana)
On Tuesday, November 15th, KU will get their first true test of the season against the Duke Blue Devils. This will be the first time these two teams play since the retirement of former Duke head coach Mike Krzyzewski. With a new coach at the helm, and plenty of player turnover from each team when compared to last year's squads, this will be an interesting early season matchup. Like Kansas, Duke has a very good recruiting class coming in along with a couple of transfers who are expected to get playing time right away. This will be a building block game for both teams. They can get their young players acclimated to playing in a big time atmosphere on a big stage.
The winner will have the leg up in early season polls, and maybe it could lead to a tie-breaker if both teams are on the line for a one-seed at the end of the season. So this game isn't meaningless by any means. Neither team will be at their best only a couple of games into the season, but it will be a measuring stick game for two of the bluest of blue blood programs in college basketball.
2. Kansas at Kentucky (Saturday January 28th, Big 12/SEC Challenge)
This will be a revenge game for Bill Self and the Kansas Jayhawks players who remain from last year's squad. Last year's KU team (that ended up going on to win the National Championship and overtake Kentucky in most team wins in college basketball history in the process) lost in embarrassing fashion at home in Allen Fieldhouse to the Wildcats. The final score was 80-62, but it was even worse than that for most of the second half.
This one will be at Rupp Arena in Lexington, Kentucky. Like Allen Fieldhouse, it is one of the more difficult places to go in and win a road game. The good news for the Jayhawks is this game will be a little bit later in the season. The Big 12/SEC challenge takes place after conference play begins, so the team's young players will have plenty of experience by the time these two teams match up. Bill Self will have his lineups figured out and it should be one of the best games of the season.
Both teams are likely to be preseason top 10 teams. Kentucky has the returning player of the year plus another solid recruiting class. This battle of the blue bloods will be one to circle on your calendar.
1. Kansas at Missouri (Saturday December 10, Mizzou Arena)
The Border War showdown is back. It should have never gone away. The rivalry was renewed last season when Kansas put the beatdown on Missouri at Allen Fieldhouse, winning the game 102-65.
For those Jayhawk fans who haven't been paying attention, Missouri hasn't had a good basketball team since they left the Big 12 for the SEC. They've been to the NCAA tournament once since they jumped ship and haven't won a tournament game since 2010. It hasn't been fun for Missouri fans.
The matchup itself probably won't be one of the more memorable games of the non-conference slate, as the Jayhawks are the superior team. However, having the rivalry back in place gives this game the nod over all the others.
This will be an easy drive down I-70 for Jayhawk fans if they want to fill up Mizzou Arena with crimson and blue. It should also be an easy victory for Kansas as they continue to build up toward conference play.
Since none of the Kansas home games made it into my top three list, I will give an honorable mention to the Jayhawks' game against the Indiana Hoosiers at Allen Fieldhouse. The game will be played in Lawrence, Kansas on Saturday December 17th, a week after the game at Missouri. While Indiana isn't the powerhouse team they used to be, they are still a program worthy of respect.
The last time KU played Indiana at home was December 22nd, 1993. Kansas won that game 86-83 in overtime. The last time these two teams met up on the court was in Hawaii at the Armed Forces Classic on November 11, 2016. Indiana won that meeting 103-99 in overtime and it was the last time Kansas had a losing record, starting the season 0-1.
On top of those matchups, Kansas will also face some tough teams in the Battle for Atlantis tournament around Thanksgiving. The matchups haven't been set yet, but the participating teams include: BYU (a future Big 12 Conference opponent), Butler, Dayton, Tennessee, USC, and Wisconsin.
Here is the full non-conference schedule:
Wednesday, Nov. 2 – Pittsburgh State (Exhibition)
Monday, Nov. 7 – Omaha
Thursday, Nov. 10 – North Dakota State
Tuesday, Nov. 15 – vs. Duke (Champions Classic, Indianapolis, Ind.)
Friday, Nov. 18 – Southern Utah
Wednesday, Nov. 23 – vs. TBD (Battle 4 Atlantis, Paradise Island, The Bahamas)
Thursday, Nov. 24 – vs. TBD (Battle 4 Atlantis, Paradise Island, The Bahamas)
Friday, Nov. 25 – vs. TBD (Battle 4 Atlantis, Paradise Island, The Bahamas)
Monday, Nov. 28 – Texas Southern
Thursday, Dec. 1 – Seton Hall (Big 12/Big East Battle)
Saturday, Dec. 10 – at Missouri
Saturday, Dec. 17 – Indiana
Thursday, Dec. 22 – Harvard
Saturday, Dec. 31 – Big 12 Play Begins
Saturday, Jan. 28 – at Kentucky (SEC/Big 12 Challenge)