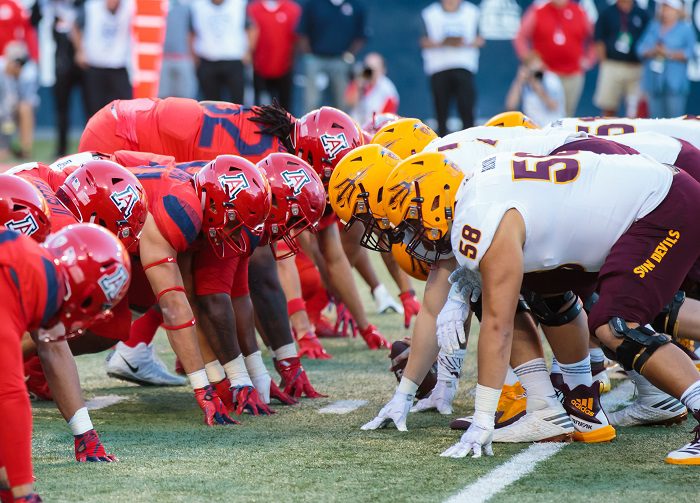 The Big 12 is meeting on Tuesday about adding four new members from the Pac-12, according to a report from Wildcat Authority, part of the 247Sports.com network.
Wildcat Authority, which covers the University of Arizona, wrote that sources indicated that the meeting would be about Arizona, Arizona State, Utah, and Colorado joining the Big 12. The report noted that this would be the biggest discussion to take place regarding the topic.
This report comes after reporting by The Action Network's Brett McMurphy on Thursday that the Big 12 might be interested in the four schools.
"With USC and UCLA giving the Big Ten 16 members and Oklahoma and Texas giving the SEC 16 schools, one possibility is the Big 12 to also get to 16 schools, a source said," McMurphy writes. "The Big 12 could add Arizona, Arizona State, Utah and Colorado, along with new members BYU, Cincinnati, Houston and UCF to get to 16 after OU and Texas leave for SEC."
From there, it's been conflicting reports. The day after McMurphy's report, CBS Sports' Dennis Dodd reported that the Big 12 was not interested in poaching any Pac-12 teams at this time and quoted a source that said a Big 12 official said "Why" in response to pursuing any Pac-12 teams.
While the Big 12 has been basically radio silent since the USC's and UCLA's announcement that they would leave for the Big Ten Conference in 2024, the Pac-12 announced on Friday that it would pursue expansion.
The Big 12 underwent its own makeover last year. Oklahoma and Texas announced last July that it would leave the Big 12 after the 2024-25 athletic year and join the SEC. In response, the Big 12 invited BYU, Cincinnati, Houston and UCF to join the league. All four schools will join the league on July 1 of next year.
The Big 12 also transitioning from Bob Bowlsby, the current commissioner who is retiring soon, to Brett Yormark, the former Brooklyn Nets executive and Roc Nation Sports chairman who will take over the Big 12 as commissioner around Aug. 1.
To say the least, there is a lot going on.
Matthew Postins can be found on Twitter @PostinsPostcard