Big 12 News
John Calipari with High Praise for New Big 12 Commissioner Brett Yormark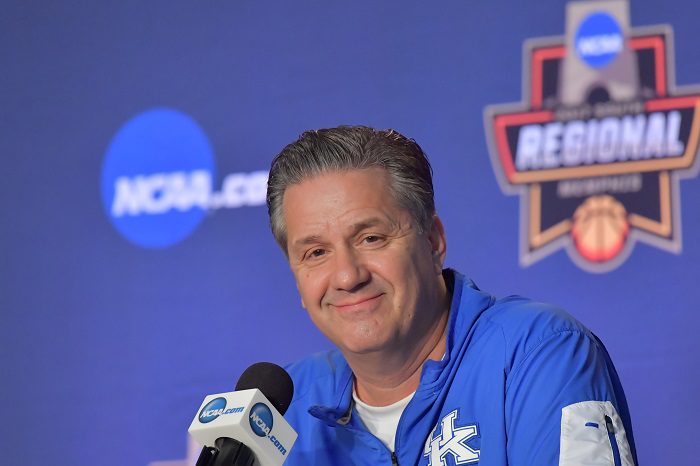 The Big 12's hiring of Brett Yormark has had some questioning the move, but with the changing of the landscape of college athletics it was time for an unorthodox hire. With all the controversy between NIL, conference realignment, and playoff expansion, Yormark is just the guy to bring his knowledge and experience to the table during this time of uncertainty, and Kentucky basketball coach John Calipari agrees.
To give you a brief overview of Yormark's background, he graduated with a business degree from Indiana University in 1988. He started out with the then New Jersey Nets in the ticket office, before he moved around the league selling TV-rights to Minnesota teams and sponsorships to the Detroit Pistons. Yormark served some time with NASCAR as the vice president of corporate sponsorships, before returning to basketball. In 2005, he was named the CEO of the Nets. After his time with the Nets, Yormark served as the chief operating officer for Jay-Z's entertainment agency, Roc Nation. He currently serves as the president of business operations and strategy for Roc Nation and is the Co-CEO of Roc Nation Unified, before he starts his role as Big 12 Commissioner on August 1st.
You may be asking how Brett Yormark and John Calipari know each other, and that dates back to when Yormark was in sponsorships. Yormark was trying to secure a deal with Pathmark CEO Jim Donald and it took the help of the then New Jersey Nets' coach. John Calipari spoke on Yormark telling CBS Sports, "He was a young guy. We were both pretty young. He used me to help him sell [a] sponsorship. I thought 'You know what? If he has enough balls to walk in here and say, 'I need you to help you sell this sponsorship,' I'm going to do it." That started the bond between Yormark and Calipari, who remain the closest of friends to this day.
Calipari went on to talk about the Big 12's hiring of Yormark, saying "I knew [Brett] would blow them away. He had to sit in the room and say, 'Guys, we need something different.' It's not that he doesn't understand TV and marketing and sponsorships. But what the Big 12 needs right now is, 'We're going to have to think different. What's our way forward to jump up and for us to be a disrupter?'"
Since the hiring of the new commissioner, the Big 12 has yet to speak on the massive news of USC and UCLA joining the Big 10, but that could change at any time. The Pac 12 has gone on record to state that it would be aggressively pursuing "all expansion options." Although there hasn't been a statement from the Big 12 about expansion, Yormark met with his athletic directors on Friday via Zoom.
It seems as if the Big 12 is back in the same spot as they were last year when the news broke that Oklahoma and Texas would be leaving the Big 12 to join the SEC, but the tides calmed when the Big 12 went out and grabbed Cincinnati, BYU, UCF, and Houston.
Let's hope that the Big 12 will go out and grab some other teams to match the SEC and Big 10 conference's expansions.