Baylor Bears
Top Three Questions for Baylor Heading into Big 12 Media Days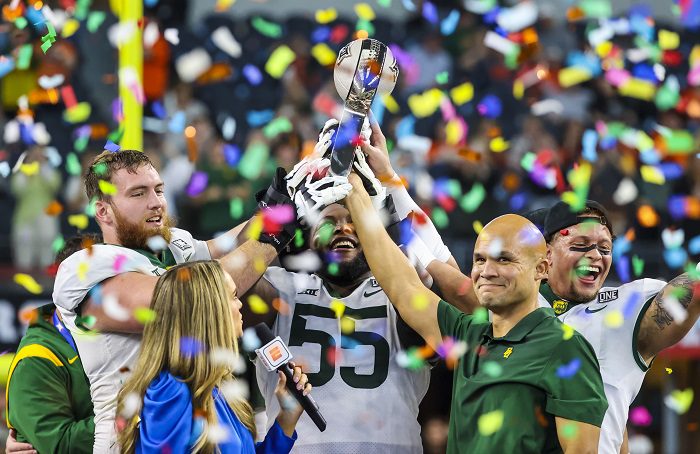 As spring turns to summer and we see the temperatures start to rise around the country, there is one thing on college football fans' minds: there are "X" days left until college football returns.
With Big 12 Media Days just right around the corner on July 13-14, preview season is in full swing and every fanbase across the nation has hope that their team will live up to the hype, or prove the talking heads wrong.
With that spirit in mind, here are three questions about Dave Aranda and the Baylor Bears ahead of Big 12 Media Days.
Is Blake Shapen Ready to be QB1?
In a small sample size last season, Baylor quarterback Blake Shapen was terrific, completing 62-86 (72%) of his passes for 596 yards and five touchdowns to zero interceptions in just three meaningful showings on the year. After the conclusion of spring football, head coach Dave Aranda announced that Shapen had won the starting job, leading 2021 starter Gerry Bohanon to hit the transfer portal and eventually head to USF.
Now, as a true sophomore, Shapen must step into the roll of being the full-time starter for the Bears and learn to master everything that that job entails. Perhaps the biggest void that Bohanon will leave behind is his leadership. Last year, he was undoubtedly the leader for the Bears, even when he was down with injury. Now, without his wisdom and voice to calm tensions when the stakes get high, will the young sophomore have the fortitude lead his team into battle?
Can the Bears Replace Lost Production?
The Baylor Bears will return just 58% (98th nationally) of production from 2021, with 65% (67th) returning on offense and 51% (113th) returning defensively, according to ESPN stats. Now, that doesn't just factor in the players that Baylor lost, but also the players it gained in the transfer portal this offseason.
With plenty of new faces at key positions, it could be a rocky start for the Bears if skill players don't fill in right where players like Gerry Bohanon, Abram Smith, and Tyquan Thornton all left off last year. The good news? Baylor returns a ton of talent and experience along the offensive and defensive lines and might just have the best of each in the Big 12 in 2022.
What Does Year Three Under Dave Aranda Look Like?
In Year 1, Dave Aranda inherited a mess of a roster and it showed at seasons end, with the Bears finishing 2-7 in a COVID shortened year. Then, in Year 2, we saw Aranda take the squad from Waco to a Big 12 Championship and a Sugar Bow Championship, finishing the year 12-2 and a program-best No. 5 in the final AP Poll. So, what can we expect in Year 3?
Well, Year 3 is when a new head coaches should thrive but Aranda beat that estimate by about 12 months. Statistically speaking, we might see some regression from Baylor given the sheer amount of snaps they lost from all-conference talent, but they will by no means fall off the map. Aranda has a well-coached, hard-nosed football team that returns a lot in the trenches. BU will be good again, its just a matter of how good.